Toto: The Dog-Gone Amazing Story of the Wizard of Oz (Hardcover)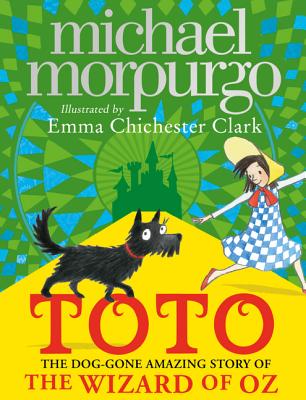 Call for price: 508-548-5548
It is unlikely that we will be able to order this item. Please call 508.548.5548.
Staff Reviews
---
Papa Toto always began his bedtime story with these words: "I was there." Those words send shivers down Tiny Toto's spine, because he knows it will be the Wizard story. Dorothy doesn't tell this story much anymore because no one—not even Uncle Henry or Aunt Em—believe her; only Papa Toto's seven puppies know about the Land of Oz and their father's adventures there with Dorothy. Michael Morpurgo presents a familiar tale in a different light, with a message of friendship and love. Emma Chichester Clark's fanciful illustrations will delight young readers and listeners.
~ Eight Cousins, Holiday Picks 2017
— From
Holiday Picks 2017
Description
---
From master storyteller MICHAEL MORPURGO, and illustrated in stunning color by the award-winning EMMA CHICHESTER CLARK, comes a surprising, charming and uplifting twist on The Wizard of Oz, told by a very special and unforgettable character: Dorothy's pet dog, Toto. A perfect, collectible gift for all children (and children at heart).
"I was there," Papa Toto said, and those magic words sent shivers down my spine. It was going to be the Wizard story. "Dorothy and me were both there."
We were all silent, snuggled up together, waiting, waiting.
Then Papa Toto began...
When a twister descends on their Kansas farm, Toto and his owner Dorothy hide in the house - only to be plucked into the air and whisked away
Coming down with a crash in the mysterious land of Oz, the pair meet a series of extraordinary characters: a scarecrow who believes he has no brains, a tin man without a heart, and a cowardly lion who may not be as cowardly as he thinks he is.
But Toto and Dorothy are desperate to return home - after all, home is home, and home is best So they set off with their new friends on a journey down the yellow brick road to find the only person who might be able to help them: the Wonderful Wizard of Oz.
But what they find might surprise them. And on the way, all of them will learn that what they think they are missing might have been there, all along...
Beautifully illustrated throughout, this is an unforgettable telling of a classic story, and a must for every bookshelf.
About the Author
---
Michael Morpurgo OBE is one of Britain's best-loved writers for children, and has sold more than 35 million books around the world. He has written more than 150 novels and won many prizes, including the Smarties Prize, the Whitbread Award and the Blue Peter Book Award, while several of his books have been adapted for stage and screen, including the global theatrical phenomenon War Horse. Michael was Children's Laureate from 2003 to 2005, and founded the charity Farms for City Children with his wife, Clare. He was knighted in 2018 for services to literature and charity.Emma Chichester Clark studied art at the Royal College of Art. She has worked as a freelancer for magazines, publishers and advertising agencies as well as teaching art for several years, but now dedicates most of her time to children's books. She won the Mother Goose Award for Best Newcomer and has been nominated for the Kate Greenaway Medal.