Savory Sweet Life: 100 Simply Delicious Recipes for Every Family Occasion (Paperback)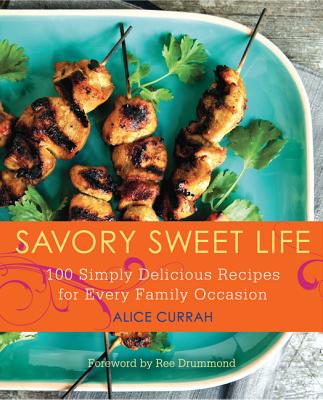 $24.99
Email or call for price.
Description
---
A one-of–a-kind cookbook, Savory Sweet Life is a wonderful collection of inventive and playful family recipes that celebrate the everyday moments in life—from birthday parties and family game nights to potlucks and summer backyard barbecues. Alice Currah, whose popular food blog, SavorySweetLife.com, attracts half a million page views every month, now combines warm, personal stories, helpful advice and time-saving tips, and real-life food for those together times that the whole family will love— whether it's Pulled Pork Tacos and Chocolate Chip Cookies on family game night or Creamy Tomato Soup with Grilled Garlic Cheese Sandwiches and Spiced Gingersnap Cookies on an unexpected snow day.

About the Author
---
ALICE CURRAH is an internationally recognized food blogger whose site, SavorySweetLife.com, is part of the Martha's Circle blog network. She is also a weekly food contributor for PBS Parents and a contributor to the Pioneer Woman's Tasty Kitchen recipe-sharing site. She has been honored as one of Babble's Top 100 Mom Food Blogs of 2011 and one of the "Eight of the Very Best Food Bloggers" on Forbes.com and by Williams-Sonoma as Best of the Web. One of Alice's photographs was selected as the winner of Saveur magazine's first-ever cover contest. She lives in Seattle, Washington, with her husband, Rob, and their three children.
Praise For…
---
"Deliciously photographed and lovingly shared, Alice's recipes remind us to savor and celebrate life. To not just enjoy the meal, but to cherish the moments around them as well." — Angie Dudley, author of Cake Pops
"Savory Sweet Life is the perfect title for this book. Most of us either cook or bake; Alice Currah does both--beautifully. Savory Sweet Life offers a peek into Alice's kitchen, one simple celebration at a time…she shares creative, appealing recipes that bear all the signs of a savvy cook." — Pam Anderson, author of the Perfect Recipe series and How to Cook Without a Book
"I've been a fan of Savory Sweet Life from the beginning, because Alice pours her heart and creativity into everything she cooks, bakes…and writes. I could marry Alice's Caramelized Onion Clam Dip and live happily ever after with her Rustic Spiced Plum Tart. You'll want to savor every yummy dish!" — Ree Drummond, author of The Pioneer Woman Cooks
"Savory Sweet Life is cover-to-cover crowd pleasers.... Alice Currah offers classic dishes and fresh variations…. And kid-friendly treats such as root beer floats, oven-broiled s'mores and caramel corn, are great for little ones, or even adults that just want to feel like a kid again." — Seattle Weekly
"A must-have [with] its focus on organizing dishes according to events, and not just holidays. Hosts will appreciate simple but impressive fare like an olive, pesto, and tomato tart . . . and sweet and spicy wings, which come together with minimum fuss and seldom a hard-to-source ingredient." — Publishers Weekly
"If you're thinking of buying food blogger Alice Currah's new cookbook, "Savory Sweet Life," make sure you've got some free time ahead of you - because once you see the luscious pictures inside, you'll want to get into the kitchen immediately." — Huffington Post
"Currah's approach to food is simple and family-friendly, but she elevates everyday from ordinary to extraordinary. Savory Sweet Life is a good choice for the home cook who wants to feed his or her family delicious food that is easy to prepare." — Shelf Awareness