Listen, Slowly (Hardcover)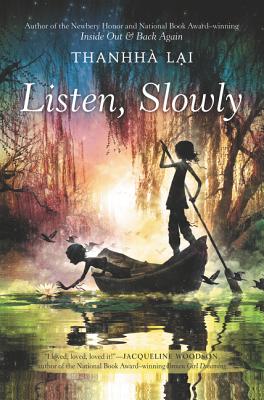 Call for price: 508-548-5548
Staff Reviews
---
For 12-year-old Mai, a fun summer means spending time at the beach. It definitely does not mean accompanying her grandmother to Vietnam, navigating a culture that is so different from the California lifestyle she knows. But Mai's parents think she should get to know her heritage, and her grandmother wants to find out what happened to her husband,who disappeared during the Vietnam War. So, Mai reluctantly goes, and what follows is a story of a girl who discovers family and friendship in a place far from the one she calls home. With humor and tenderness, Lai transforms Mai from a self-centered pre-teen to a girl who listens, observes, and learns to embrace the unknown.
— From
Holiday Picks 2015
Description
---
This remarkable and bestselling novel from Thanhha Lai, author of the National Book Award–winning and Newbery Honor Book Inside Out & Back Again, follows a young girl as she learns the true meaning of family.
Listen, Slowly is a New York Times Book Review Notable Book and a Publishers Weekly Best Book of the Year!
A California girl born and raised, Mai can't wait to spend her vacation at the beach. Instead, she has to travel to Vietnam with her grandmother, who is going back to find out what really happened to her husband during the Vietnam War.
Mai's parents think this trip will be a great opportunity for their out-of-touch daughter to learn more about her culture. But to Mai, those are their roots, not her own. Vietnam is hot, smelly, and the last place she wants to be. Besides barely speaking the language, she doesn't know the geography, the local customs, or even her distant relatives. To survive her trip, Mai must find a balance between her two completely different worlds.
Perfect for fans of Rita Williams-Garcia and Linda Sue Park, Listen, Slowly is an irresistibly charming and emotionally poignant tale about a girl who discovers that home and culture, family and friends, can all mean different things.
About the Author
---
Thanhhà Lai is the #1 New York Times bestselling author of Inside Out & Back Again, her debut novel in verse, which won both a National Book Award and a Newbery Honor, and the acclaimed Listen, Slowly, which was named to numerous best book of the year lists. She was born in Viêt Nam and now lives in New York with her family. To learn more about Thanhhà and her charity, Viet Kids Inc., visit www.thanhhalai.com.
Praise For…
---
"This book is at once funny, thoughtful, and stunningly engaging. I loved, loved, loved it! Can't wait for my own daughter—and every reader who is lucky enough to get their hands on it—to step inside Mai's two, very different, worlds."
— Jacqueline Woodson, author of the National Book Award-winning Brown Girl Dreaming

"Lai does a superb job of creating a memorable setting and populating it with fully developed, complex characters. Gracefully written, Listen, Slowly is a sometimes humorous, always thought-provoking coming-of-age story."
— Booklist (starred review)

"The sights, smells, and tastes of Vietnam's cities and villages come alive on the page, without overwhelming a story filled with a summers-worth of touching and hilarious moments, grand adventure, and lazy afternoons."
— School Library Journal (starred review)

"As she did in her National Book Award-winning Inside Out & Back Again, Lai offers a memorable heroine and cultural journey—ones that are clever near-opposites of those in that book."
— Publishers Weekly (starred review)

"Lai inserts Ba's lyrical voice selectively into Mai's story. These heart-stopping passages further shift Mai's position from outsider to insider, to, finally, truly bicultural, just as 'Listen, Slowly' invites readers to see Vietnam from the inside out—and back again."
— New York Times Book Review

"This is a love story on many levels, between granddaughter and grandmother, grandmother and grandfather, and for the homeland one carries within. Details Lai plants early on add up to a powerful finish. A beautiful counterpart to Thanhhà Lai's Inside Out and Back Again."
— Shelf Awareness (starred review)

"Newbery Honor author Lai delivers a funny, realistic tale of family and friendship and culture clashes. A touching tale of preteen angst and translation troubles."
— Kirkus Reviews

"This valentine of a novel may jumpstart questions in young readers about the people and places of their families' past."
— Washington Post

"Lai convincingly shows Mai's slow transformation from spoiled child to someone who can look beyond herself with compassion. Her strong-willed personality makes her an entertaining narrator; readers will happily travel anywhere with Mai."
— The Horn Book

"Through prose so evocative we can feel the heat caressing Mai's skin as she lands, Lai transports the reader from suburban California to modern-day Vietnam."
— Los Angeles Times

The village experience and Mia and her grandmother's travels in the city offer Lai a way to introduce readers to various aspects of Vietnamese culture with both wry wit and genuine enthusiasm.
— Bulletin of the Center for Children's Books

"Thanhha Lai is so amazing."
— Bustle.com

"Holy cats, I LOVE this book! I loved Mia so much—she's one of the best characters I've read in a while. Sarcastic, smart, and so, so funny. And she brings a wonderful sense of levity to a beautiful, sad story."
— BookRiot.com

Praise for INSIDE OUT AND BACK AGAIN: "An enlightening, poignant and unexpectedly funny novel in verse. In her not-to-be-missed debut, Lai evokes a distinct time and place and presents a complex, realistic heroine."."
— Kirkus Reviews (starred review)

"Based in Lai's personal experience, this first novel captures a child–refugee's struggle with rare honesty. Written in accessible, short free–verse poems, Hà's immediate narrative describes her mistakes—both humorous and heartbreaking; and readers will be moved by Hà's sorrow as they recognize the anguish of being the outcast."
— Booklist (starred review)

"The taut portrayal of Hà's emotional life is especially poignant as she cycles from feeling smart in Vietnam to struggling in the States, and finally regains academic and social confidence. An incisive portrait of human resilience."
— Publishers Weekly (starred review)

"Ha's voice is full of humor and hope."
— School Library Journal (starred review)

"Open this book, read it slowly to savor the delicious language. This is a book that asks the reader to be careful, to pay attention, to sigh at the end."
— Kathi Appelt, bestselling author of Newbery Honor Book The Underneath

"American and Vietnamese characters alike leap to life through the voice and eyes of a ten–year–old girl—a protagonist so strong, loving, and vivid I longed to hand her a wedge of freshly cut papaya."
— Mitali Perkins, author of Bamboo People

"Lai's spare language captures the sensory disorientation of changing cultures as well as a refugee's complex emotions and kaleidoscopic loyalties."
— The Horn Book

"In this free-verse narrative, Lai is sparing in her details, painting big pictures with few words and evoking abundant visuals."
— Bulletin of the Center for Children's Books
Coverage from NPR