Do Your Om Thing: Bending Yoga Tradition to Fit Your Modern Life (Hardcover)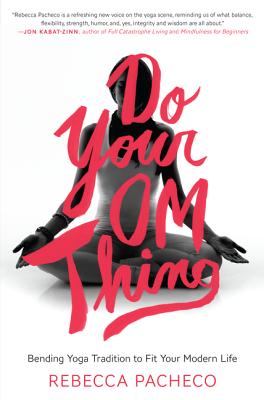 Call for price: 508-548-5548
It is unlikely that we will be able to order this item. Please call 508.548.5548.
Description
---
From an acclaimed master yoga teacher and creator of one of the most popular yoga blogs on the Internet comes a contemporary guide to the full mind-body practice, combining intention and enlightenment with athleticism and physicality.
While the practice of yoga encourages fitness, its benefits extend far beyond the physical. In order to have a beautiful, fit body, a yoga practitioner must understand and respect its inextricable link to mind and spirit.
Yet for those who want a deeper connection with their practice, who seek enlightenment, there are few resources to provide guidance. Master yoga teacher, athletic model, and writer Rebecca Pacheco is the ultimate twenty-first-century yoga ambassador. In Do Your Om Thing, she shows readers how to benefit from the ancient wisdom and philosophy of yoga without repudiating its modern attributes.
Divided into four parts—Philosophy, Body, Mind, and Spirit—Do Your Om Thing explores the traditional practice of yoga, from the eight limbs of the ancient path to the five koshas and the seven chakras of the yoga body. Pacheco translates these ancient texts for modern readers and puts them into the context of our everyday lives. Complete with a practical overview of the many different styles of yoga, simple poses, and sequences for daily balance, plus helpful tips on meditation, Do Your Om Thing is the ultimate guidebook for anyone who wants a workout that benefits the body and the mind.
About the Author
---
Rebecca Pacheco is the author of Do Your Om Thing as well as yoga teacher, speaker, and creator of the popular yoga blog OmGal.com. She has been practicing yoga for nearly two decades and began teaching while studying English Literature at the University of Richmond. Previously a master teacher at the Baptiste Power Yoga Institute, Rebecca now offers her signature Om Athlete and creative Vinyasa yoga classes. A longtime runner and Boston Marathon finisher, she is also the resident yoga expert for Runner's World magazine and reports on wellness for The Boston Globe. She lives in Boston. 
Praise For…
---
"Rebecca Pacheco is a refreshing new voice on the yoga scene, reminding us of what balance, flexibility, strength, humor, and yes, integrity and wisdom, are all about."
— Jon Kabat-Zinn, author of Full Catastrophe Living and Mindfulness for Beginners

"In this beautiful, open-hearted book, Rebecca turns ancient yoga concepts into important contemporary life lessons... Readers will love exploring yoga in this space with her."
— Priscilla Warner, bestselling author of Learning to Breathe and co-author of The Faith Club

"It's hard enough to find ourselves with all the information out there telling us who to be.... Pacheco encourages us to look no further than where we are, while giving us a concise manual of years of yoga tradition to help us navigate our own paths."
— Katherine Jenkins, author of Lessons from the Monk I Married

"Rebecca is a strong bridge between fitness and spiritual awareness. Her work points us to the pertinent potential for our inner life, and offers much relevant clarity in the world of wellness."
— Elena Brower, author of Art of Attention

"Pacheco presents a balanced view of how yoga aligns with modern life…her thoughtful approach to yoga's ancient underpinnings is applicable to new and seasoned practitioners alike."
— Publishers Weekly