The Tenth Muse: A Novel (Paperback)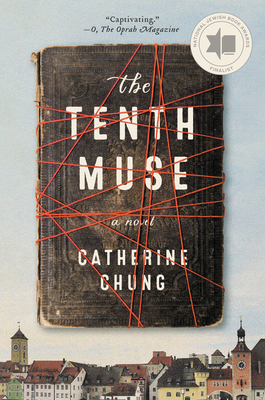 $16.99
Currently not in store. Available to order. Usually Ships in 1-5 Days
Staff Reviews
---
Katherine has been targeted for her intelligence since grade school. In her small Midwestern town in the 1950s, her Asian heritage makes her stand out from the other children. Her parents are different, and avoid any discussion of the family's past. They are attentive: her father recognizes Katherine's interest in science, and her Chinese mother narrates fairy tales from her native country, while opening Katherine's eyes to the beauty and wonder of nature. But something is not quite right.
Katherine's gift is in mathematics, and through high school, college, and into graduate school she excels in this subject and attempts to forge ahead in a field dominated by men. She accepts a post doctorate at the University of Bonn, where she discovers an entirely new world of intellectual conversation and friendship. As she tackles an extremely difficult mathematical theorum, Katherine is also on the path to discovering who she really is and who her parents were. 
The Tenth Muse is beautifully written and wide-ranging in scope as it tackles issues of identity and women's roles in society. And who is the tenth muse? She is Zeus' youngest daughter, who scorns being a muse and wants to follow her own destiny. After all, why be a muse when it's possible to be a scientist or mathematician, and not merely an inspiration!
— Mary Fran
July 2019 Indie Next List
---
"Catherine Chung's female protagonist is a mathematician, and it is thrilling to have a woman scientist who is a complex character in an even more complex novel. In trying to solve a math riddle, she ends up exploring the riddle of her own childhood, which is inextricably linked to one of the darkest episodes in human history. Catherine Chung has woven a rich tapestry mixing present and past, ambition, identity, and gender issues. A beautiful book."
— Francoise Brodsky, Shakespeare & Co. (NY), New York, NY
Description
---
A RECOMMENDED BOOK FROM:
Los Angeles Times * USA Today * O, the Oprah Magazine * Buzzfeed * The Rumpus * Entertainment Weekly * Elle * BBC * Christian Science Monitor * Electric Literature * The Millions * LitHub * Publishers Weekly * Kirkus * Refinery29 * Thrillist * BookBub * Nylon * Bustle * Goodreads
An exhilarating, moving novel about a trailblazing mathematician whose research unearths her own extraordinary family story and its roots in World War II
From the days of her childhood in the 1950s Midwest, Katherine knows she is different, and that her parents are not who they seem. As she matures from a girl of rare intelligence into an exceptional mathematician, traveling to Europe to further her studies, she must face the most human of problems—who is she? What is the cost of love, and what is the cost of ambition? These questions grow ever more entangled as Katherine strives to take her place in the world of higher mathematics and becomes involved with a brilliant and charismatic professor.
When she embarks on a quest to conquer the Riemann hypothesis, the greatest unsolved mathematical problem of her time, she turns to a theorem with a mysterious history that may hold both the lock and the key to her identity, and to secrets long buried during World War II. Forced to confront some of the most consequential events of the twentieth century and rethink everything she knows of herself, she finds kinship in the stories of the women who came before her, and discovers how seemingly distant stories, lives, and ideas are inextricably linked to her own.
The Tenth Muse is a gorgeous, sweeping tale about legacy, identity, and the beautiful ways the mind can make us free. 
About the Author
---
Catherine Chung won an Honorable Mention for the PEN/Hemingway Award with her first novel, Forgotten Country, and has been a National Endowment for the Arts Fellow, a Granta New Voice, and a Director's Visitor at the Institute for Advanced Study in Princeton. She has a degree in mathematics from the University of Chicago, and worked at a think tank in Santa Monica before receiving her MFA from Cornell University. She has published work in The New York Times and Granta, and is a fiction editor at Guernica Magazine. She lives in New York City.
Praise For…
---
"The cliché that boys are better at math collapses before the diamond-hard mind of a grad student whose relentless attempt to prove a legendary hypothesis exposes a deeper algorithm about herself.... Captivating."
— O, the Oprah Magazine

"Tackles questions of identity, betrayal, ambition and loneliness.... Distinctive... An absorbing summer read."
— New York Times Book Review

"Can a mathematician also be an accomplished storyteller? The answer is an emphatic yes.... Elegant and absorbing fiction....Her work radiates a love of the subject....Her real subject, beyond the magic of storytelling, is the problem of identity, as shaped by gender, ethnicity, history and choice."
— Chicago Tribune

"This shimmering, gorgeous book grapples with the secrets in the world around us, and the one within us; Chung's prose is electric, and this story is a provocative exploration of the puzzles that most need interrogating."
— Nylon Magazine

"Need a metaphor for the unassailable tangle of the self? The Riemann Hypothesis, one of the great unsolved mathematical problems, does nicely in this novel. About 50 years ago, mathematician Katherine was attempting to unpick its knot, and at the same time deal with revelations about her own family heritage."
— Elle

"The Tenth Muse centers on Katherine, an aspiring mathematician whose studies take her deep into her family history, and a legacy of genius and empowerment which probes compelling questions about her identity."
— Entertainment Weekly

"An interrogation of truth and its value — of secrets, sacrifice, and identity."
— Buzzfeed

"Themes of one's legacy, breakthroughs, and identity is woven throughout Catherine Chung's latest novel about a mathematician facing down her generation's most difficult, unsolved theorum, digging into intentionally buried research during WWII to blaze her own path and become a name mentioned in history books."
— Thrillist

"Chung masterfully subverts our expectations... Endlessly thrilling. An exquisite story of legacy, selfhood, survival, and integrity... The Tenth Muse is an inspiring tour de force of STEAM proportions: a riveting intersection of mathematics and art."
— The Rumpus

"A powerful and virtuosically researched story about the mysteries of the head and the heart."

— Kirkus Reviews (starred review)

"Chung's impressive, poignant second novel (after Forgotten Country) explores the intersections of intellectual and familial legacies.... Chung persuasively interweaves myths and legends with the real-world stories of lesser-known women mathematicians and of WWII.... Chung's novel boldly illustrates that truth and beauty can reside even amid the messiest solutions."
— Publishers Weekly (starred review)

"The Tenth Muse champions female intellectual independence while uncovering sacrifices made to acquire it.... Powerful."
— Shelf Awareness (starred review)

"Mathematics and its history, the legacy of WWII, and the struggles women face in pursuing academic success, especially in fields dominated by men, are woven into this novel that Chung (Forgotten Country, 2012) renders in polished prose."
— Booklist

"Chung's development of key characters is strong, her light prose flows easily throughout, and she successfully represents a young woman attempting to find her identity and stand out in a field dominated by men.... Engaging."
— Library Journal

"Bountiful in scope, fables, intellect, and heart, the novel is at times heart-wrenching."
— Christian Science Monitor

"The Tenth Muse will shake your views on female success.... Here is a novel that is so real it hurts at times.... It brings the reader on the bumpy hard path of truth and sacrifice, blood ties and betrayal, human injustice and forgiveness."
— New York Journal of Books

"The Tenth Muse is as ambitious and intriguing as the complex math problems Katherine, the protagonist of this remarkable novel, aims to solve. In this novel—the scope of which is staggering—Chung has crafted a story that is moving, elegant, and richly written."
— Roxane Gay, author of Hunger

"A deft, spellbinding emotional puzzle-box of a book, rich and intricately layered. The Tenth Muse slowly, carefully builds to turn your every expectation on its head, and reading it feels like a glimpse of what mathematics might be in the eyes of its ablest practitioners—both secret and sublime."
— Téa Obreht, author of The Tiger's Wife

"A page-turning intellectual thriller, a family romance, an alternative history of twentieth-century math—I couldn't put it down."
— Elif Batuman, author of The Idiot

"Ambitious, mesmerizing, and immersive, The Tenth Muse gives us a character we'd follow anywhere, and journeys well worth following her on. This novel dazzles."
— Rebecca Makkai, author of The Great Believers

"Arresting in scope and its treatment of time, its prose at turns crystalline and richly balletic, this story pulls puzzle from puzzle – human, historical, and all too contemporary."

— Helen Oyeyemi, author of Gingerbread

"Catherine Chung's gorgeous novel, The Tenth Muse, about mathematics and identity, and the cost of being a talented and ambitious woman in a world preoccupied with male success, rushed over me like a wave and carried me out to sea where, pleasantly, I drowned."
— Manuel Gonzales, author of The Regional Office Is Under Attack!

"The Tenth Muse is a must-read. This beautiful, captivating novel has it all: A riveting family secret; a heroine ahead of her time; and a brilliant historical narrative that sheds light on the way we live now."
— J. Courtney Sullivan, author of Saints for All Occasions

"The Tenth Muse gives life to the story of brilliant Katherine, whose exceptional gift for seeing the patterns in numbers leads her to dramatic and heartbreaking discoveries, even as they lead to understanding and wisdom about her own existence. This is a passionate and beautiful book."

— Alice Elliott Dark, author of In the Gloaming

"A profound feminist contemplation upon the ways in which societies everywhere privilege male over female lives, and male creativity preys on female ingenuity.... The Tenth Muse is a thoroughly original take on history from a woman's perspective and could not be timelier."
— Historical Novels Review