Em and the Big Hoom: A Novel (Paperback)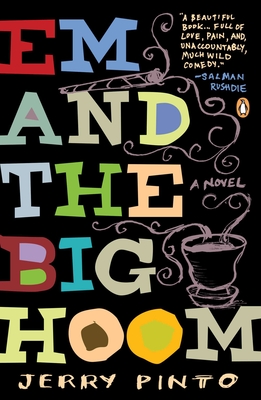 Call for price: 508-548-5548
It is unlikely that we will be able to order this item. Please call 508.548.5548.
July 2014 Indie Next List
---
"This is the story of the Mendes family who live in Bombay, India. Em is Imelda. The Big Hoom is Augustine. When they fall in love, he is handsome, reliable, and tender; she is witty, charismatic, and eccentric. But after their two children are born, it becomes clear that Em is also bipolar. The life of the family revolves around her -- her highs, her lows, her suicide attempts, and her recoveries. Told through the eyes of their teenaged son, Em and the Big Hoom is a rare story of love, pain, and laughter. Pinto weaves a beautiful tale of a family trying to be family despite the odds."
— Muir & Jenny Cohen, Waucoma Bookstore, Hood River, OR
Description
---
The devastatingly original debut novel from a winner of the 2016 Windham-Campbell Prize for Fiction.

"Profoundly moving . . . I cannot remember when I last read something as touching as this." —Amitav Ghosh, author of The Glass Palace

First published by a small press in India, Jerry Pinto's debut novel has already taken the literary world by storm. Suffused with compassion, humor, and hard-won wisdom, Em and the Big Hoom is a modern masterpiece, and its American publication is certain to be one of the major literary events of the season.

Meet Imelda and Augustine, or—as our young narrator calls his unusual parents—Em and the Big Hoom. Most of the time, Em smokes endless beedis and sings her way through life. She is the sun around which everyone else orbits. But as enchanting and high-spirited as she can be, when Em's bipolar disorder seizes her she becomes monstrous, sometimes with calamitous consequences for herself and others. This accomplished debut is graceful and urgent, with a one-of-a-kind voice that will stay with readers long after the last page.
About the Author
---
Jerry Pinto is a writer of poetry, prose, and children's fiction, as well as a journalist. Em and the Big Hoom is his first novel. He is the winner of numerous literary awards, including a 2016 Winham-Campbell Prize for Fiction, the 2013 Crossword Book Award, and the  Hindu Literary Award.  He lives in Mumbai, India.
Praise For…
---
"Em and the Big Hoom is a beautiful book, a child's-eye view of madness and sorrow, full of love, pain, and, unaccountably, much wild comedy.  One of the very best books to come out of India in a long, long, time." – Salman Rushdie, Best of the Booker winner for Midnight's Children

'A delightful debut . . . Written with genuine compassion and sincerity, while a sprinkling of black humour ensures it is never overly sentimental' - Financial Times

'Jerry Pinto's prose is lively and incisive . . . moments of great humour here as well as moments of tenderness and poignancy' - Herald

'Powerful' - Sunday Times

'Delightful … Pinto is quite a genius with dialogue' - Guardian

"Pinto chases the elusive portrait of a mother who simply said of herself that she was mad.  As I read the novel, that also portrays a very tender marriage and the life of a Goan family in Bombay, it drowned me.  I mean that in the best way.  It plunged me into a world so vivid and capricious, that when I finished, I found something had shifted and changed within myself.  This is a world of magnified and dark emotion.  The anger is a primal force, the sadness wild and raw.  Against this, the jokes are hilarious, reckless, free falling… This is a rare, brilliant book,  one that is wonderfully different from any other I that I have read coming out of India." – Kiran Desai, author of The Inheritance of Loss, Winner of the Man Booker Prize and National Book Critics Circle Fiction Award

"It is utterly persuasive and deeply affecting: stylistically adventurous it is never self-indulgent; although suffused with pain it shows no trace of self-pity.  Parts of it are extremely funny, and its pages are filled with endearing and eccentric characters.  Em and the Big Hoom is a profoundly moving book: I cannot remember when I last read something as touching as this." – Amitav Ghosh, bestselling author of The Glass Palace

'A near-perfect account of a psychologically troubled mother and the shockwaves felt by her family. Rich and beguiling . . . Within sentences of this touching, funny and calmly shocking narrative, their son makes it clear that he knows about the things that really matter' - Irish Times

'Em and the Big Hoom addresses mental illness in everyday lives with powerful originality and humour' - The Big Issue in the North

"Pinto's narrative is both brutal and beautiful." – Business Standard Book Review

"A stunningly beautiful and devastatingly heartbreaking debut novel." - Bookreporter

"Pinto's engaging debut, ripe with wit and affection, portrays an unforgettable family of four in middleclass, Catholic Mumbai as their lives revolve around their manic-depressive matriarch, Em."  —  Booklist

"Deeply engrossing, finely-tuned, and told with a moving and luminous clarity, this is a splendid and memorable debut." – The Hindu

"Although it's set in India, Em and the Big Hoom is a relevant and resonant book for any audience, anywhjere, transcending territory and nationality even as it reflects upon them.  It is a great big wide novel with a voice so unique and yet, somehow, so familiar that its words ring in your ears long after you've left these pages, calling you back, again and again, to a story that demands to be read." – Lauren Slater, author of Opening Skinner's Box and Prozac Diary

'Em and the Big Hoom is a joyous read that leaves you chuckling and sad, at once.' – The Asian Age

"Pinto's prose quicksilvers its way through time and emotions, slipping in wit and pulling out despair elegantly… Every one of Pinto's characters feels alive and real." – Dnaindia.com        

"This is a small and beautiful book … Pinto's writing has startling sweetness" – Asian Review of  Books