Oxford Handbook of Learning and Intellectual Disability Nursing (Paperback)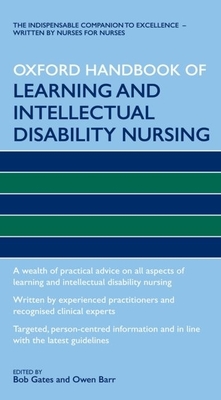 $43.95
Email or call for price.
Description
---
Intellectual disability nurses can be found working and supporting people in a variety of different care contexts. These include the healthcare system, social care and education, as well as the private sector (including voluntary and not for profit organizations). Numerous other professional disciplines also work alongside these areas including: clinical psychologists, social workers, occupational therapists, speech and language therapists, and consultant psychiatrists. The Oxford Handbook of Learning and Intellectual Disability Nursing provides up-to-date, concise, and practical "coal-face" information for use in all areas where intellectual disability nurses are located. It includes a section on practical applications and therapeutic interventions, as well as an emergencies section and coverage of the main points of mental health legislation. Unique to this Oxford Handbook is the attention given to differences in legislation and social policy across the constituent countries of the UK and Ireland. The Oxford Handbook of Learning and Intellectual Disability Nursing is clearly laid out and written in readable note-based style. It is an invaluable companion to both community and ward nurses, and all those working with patients with learning and intellectual disabilities.
About the Author
---
Bob Gates has worked in the field of intellectual disability for over 36 years and is currently leading the Valued People Project at South Central Strategic Health Authority. Previously he was Head of Learning Disabilities at Thames Valley University London, and prior to this he was Director of the East Yorkshire Learning Disability Institute at the University of Hull. He has worked in intellectual disability services and education settings in a number of areas and is Founding Editor in Chief of the Journal of Intellectual Disabilities, now in its 12th Volume. He also serves on a number of other editorial boards of international journals. Bob has had published over eighty papers along with numerous textbooks on issues concerned with learning disabilities. He has considerable experience of research, consultancy and project management. Main research interests are advocacy, challenging behaviour, families, people with profound and complex needs, and the education and training of carers. Owen Barr started his nursing career at Altnagelvin Area Hospital in 1981. He worked in a number of hospital and community nursing posts in LD services in England and Northern Ireland before entering nurse education in 1991. He is a graduate of the University of Ulster, with a BSc (Hons) Professional Development in Nursing, an MSc Guidance and Counselling and he completed his PhD in 2005. Owen entered the University of Ulster in 1994 as a Senior Lecturer and became Head of the School of Nursing in December 2007. He has particular interests in health needs of people with learning disabilities, including access to primary and acute hospital services as well as the impact of receiving personal genetic information. He has undertaken research and published papers in this area. Owen has written over 70 publications covering nursing services for people with learning disabilities and has been the Editor of the Journal of Intellectual Disabilities since January 2008.