The Historic Seacoast of Texas (Hardcover)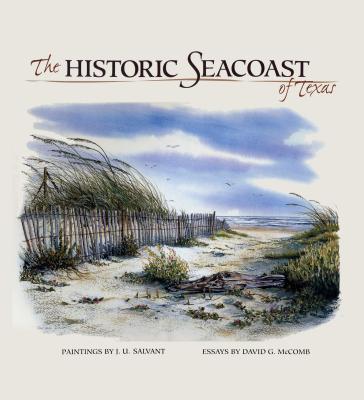 $24.95
Email or call for price.
Description
---
The Gulf Coast of Texas has drawn people ever since nomadic Indian tribes sought sustenance in the coastal lagoons and marshes. Spanish and French explorers shipwrecked on these shores, while settlers in the nineteenth century turned Galveston and Indianola into thriving ports. Today, the coast is a major hub for industry and maritime shipping, as well as for commercial and pleasure fishing. Perhaps most important, the Gulf Coast remains a place where visitors and residents alike find refreshment and renewal.
J. U. Salvant's lovely watercolor paintings in this book capture the history, beauty, and natural resources of the Texas coast. Some recreate landmarks that have been washed away by the tides of time, while others depict historical sites that welcome visitors. Still other paintings portray aspects of coastal life that are timeless. David G. McComb offers a concise, fascinating history of the Texas coastline to accompany the paintings. He shows how the resources of land and sea have always attracted people to the coast and describes the effects of major hurricanes. He also provides vignettes of individuals whose lives are woven into the Gulf Coast story. Taken together, these words and images blend past and present into a seamless depiction of the charms of the Gulf Coast.