Scarlett Undercover (Hardcover)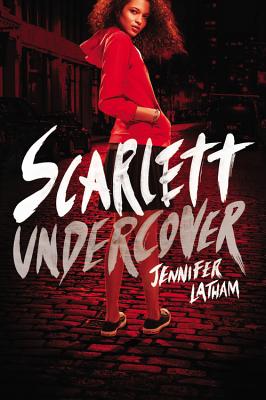 Call for price: 508-548-5548
Description
---
Meet Scarlett, a smart, sarcastic fifteen-year-old, ready to take on crime in her hometown. When Scarlett agrees to investigate a local boy's suicide, she figures she's in for an easy case and a quick buck. But it doesn't take long for suicide to start looking a lot like murder.
As Scarlett finds herself deep in a world of cults, curses, and the seemingly supernatural, she discovers that her own family secrets may have more to do with the situation than she thinks...and that cracking the case could lead to solving her father's murder.
Jennifer Latham delivers a compelling story and a character to remember in this one-of-a-kind debut novel.
About the Author
---
Jennifer Latham is an army brat with a soft spot for kids, books, and poorly behaved dogs. She's the author of Scarlett Undercover and lives in Tulsa, Oklahoma, with her husband and two daughters.
Praise For…
---
* "This whip-smart, determined, black Muslim heroine brings a fresh hard-boiled tone to the field of teen mysteries."
—
Kirkus Reviews, starred review
"Scarlett is tough and fiercely independent...The supernatural mystery is engaging and the Muslim American teenage sleuth will be a welcome addition to YA shelves...An heir apparent to Veronica Mars."
—
SLJ
"Latham's noir-flavored narrative is a lot of fun."
—
Publishers Weekly
"A delightful, unique blend of hardboiled detective story and Middle Eastern folklore...The action and suspense, as well as the engaging detective at its core, make this a worthy read."
—
Booklist
"Why didn't they have splendidly thoughtful and executed books for young adults when I was one myself? Jennifer Latham touches a deep pulse of teenage angst, introduces a grandly original P.I. heroine, and taps a yet-deeper pulse of 2015 America. Embracing a unique debut novel."
—
James Ellroy, bestselling author of L.A. Confidential and Perfidia
"
Scarlett Undercover
is a unique mystery, drawing readers into an underworld full of jinn and ancient family secrets. With its capable, relatable heroine, a twisting plot, and a cast of diverse characters, Latham's tale will keep you on your toes, turning pages long into the night."—
Ryan Graudin, author of The Walled City
"Witty and suspenseful,
Scarlett Undercover
is an inventive mystery steeped in Islamic tradition, starring a hard-boiled heroine with a heart."—
Sheba Karim, author of Skunk Girl
"One part snarky
Veronica Mars
in its noir-meets-adolescence setup and one part levelheaded
Da Vinci Code
with its religious symbolism-tinged quest."—
The Horn Book