The Baby Food Bible: A Complete Guide to Feeding Your Child, from Infancy On (Paperback)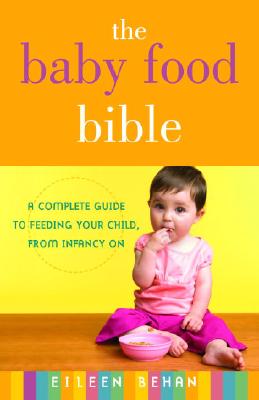 $17.00
Email or call for price.
Description
---
THE TIME TO ENCOURAGE HEALTHY EATING HABITS AND SMART FOOD CHOICES FOR YOUR CHILD IS NOW.

Unhealthy food is everywhere–colorfully packaged, cheap, and full of fat, calories, and sodium. It's no wonder childhood obesity has become an epidemic in the last thirty years. As a result, by the time most people reach adulthood, they're already wired to overeat.

Family nutrition expert Eileen Behan posits that good nutrition and good eating habits start on day one. The Baby Food Bible features a guide to more than 100 foods recommended for infants and toddlers based on the American Academy of Pediatrics guidelines, tells parents when to introduce these foods into a child's diet, and emphasizes the importance of setting healthy eating routines that center on family meals at the dining room table–the perfect time to build good habits. In a clear, accessible style, Behan describes how to:

• foster an appetite for a healthy variety of new foods (there's more to life than string cheese)
• avoid everyday pitfalls, such as relying on too much fruit juice or labeling your child a picky eater
• establish a meal and snack schedule (children will feel more secure and eat better)
• decipher the many labels and ingredient lists at the grocery store
• prevent and treat common food-related issues, including allergies, colic, choking, and iron deficiency
• encourage the foods that will discourage chronic disease, from high blood pressure to heart disease

The Baby Food Bible also features an alphabetized index–from apples to zucchini–that explains how to buy, store, prepare, and serve more than 100 foods, with delicious recipes for every meal, wholesome snack ideas, and advice for eating out. There's no better way to ensure your child will grow up to have a happy and healthy life!
About the Author
---
Eileen Behan is a member of the American Dietetic Association (ADA) and a registered dietitian. She has more than 25 years of experience working with individuals and families. Behan trained as a dietitian at the Brigham and Women's Hospital in Boston and completed the ADA weight-management program training for children, adolescents, and adults. Behan has published seven books, including the bestselling Eat Well, Lose Weight, While Breastfeeding. She has written for The Washington Post, Newsweek, Parents magazine, Parenting, and Tufts University Nutrition Newsletter. She has appeared on numerous television networks and programs to discuss nutrition, including CNN, CNBC, and the Today show. She lives on the New Hampshire coast.