The Misadventures of the Family Fletcher (Hardcover)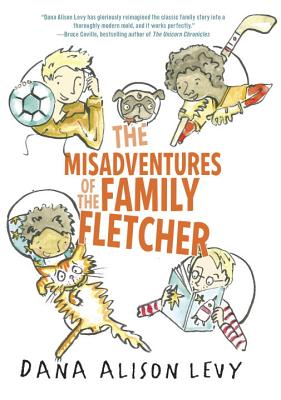 Call for price: 508-548-5548
Staff Reviews
---
Eight Cousins Pick of the Year 2014
Four brothers make for a bumptious household, even with two dads keeping
track. The boys compete at home, but are fiercely loyal to each other
in the outside world. And when things start to get out of hand (more or
less hourly), one of the dads reminds them about "Fletcher Family Rules"
of honor, fair play, and safety. Sam is 12, a terrific soccer player,
hungry all the time, and eager to measure up in the eyes of his peers.
Jax and Eli are both 10, but different as can be: Jax would like to be
cool and tough as a Jedi, but is annoyed by the attention Sam has
started giving to his phone. Eli is a brainiac, and has worked hard to
convince the family to send him to a special private school. Now that
the school year is getting underway, he's starting to question the
decision. The youngest is Frog, starting kindergarten, eager to keep up,
and able to vomit at will. Plan to read this one where snorts of
laughter won't disturb others.
Description
---
Fans of Beverly Cleary's Quimbys, Judy Blume's Hatchers, and, more recently, Jeanne Birdsall's Penderwicks will fervently hope that more Fletcher misadventures are yet to come. "School Library Journal, " Starred
The start of the school year is not going as the Fletcher brothers hoped. Each boy finds his plans for success veering off in unexpected and sometimes diastrous directions. And at home, their miserable new neighbor complains about everything. As the year continues, the boys learn the hard and often hilarious lesson that sometimes what you least expect is what you come to care about the most.
Praise for "The Misadventures of the Family Fletcher"
A Junior Library Guild Selection
set star] Their banter is realistic, and the disorder of their everyday lives, convincing. The Fletcher family rules "Kirkus Reviews, "Starred
Dana Alison Levy has gloriously reimagined the classic family story into a thoroughly modern mold, and it works perfectly. Bruce Coville, bestselling author of "My Teacher Is an Alien" and the Unicorn Chronicles
set star] With its semi-episodic structure, laugh-out-loud humor, and mix of zaniness and love, Levy's debut offers something truly significant: a middle-grade family story featuring gay parents and interracial families that is never about either issue. "School Library Journal, "Starred
Levy provides a compelling, compassionate, and frequently hilarious look at their daily concerns. By book's end readers will want to be part of (or at least friends with) this delightful family. "The Horn Book"
About the Author
---
Dana Alison Levy was raised by pirates but escaped at a young age and went on to earn a degree in aeronautics and puppetry. Actually, that's not true--she just likes to make things up. That's why she always wanted to write books. She was born and raised in New England and studied English literature before going to graduate school for business. While there is value in all learning, had she known she would end up writing for a living, she might not have struggled through all those statistics and finance classes. Dana was last seen romping around with her family in Massachusetts.