La Madre Goose: Nursery Rhymes for los Niños (Hardcover)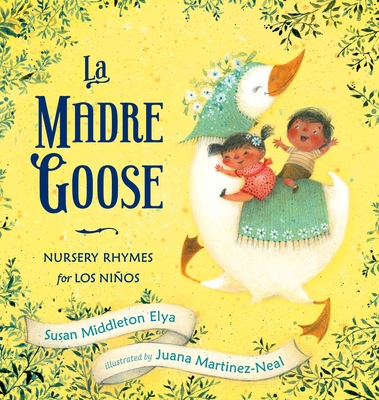 Call for price: 508-548-5548
Backordered. Please call 508.548.5548 for more information.
Description
---
Classic favorites get a modern Latino twist

The itsy arañita
climbed up the water spout.
Down came la lluvia
and washed la araña out.
 
Classic Mother Goose rhymes get a Latino twist in this cozy collection. From young Juan Ramón sitting in el rincón to three little gatitos who lost their mitoncitos, readers will be delighted to see familiar characters in vibrant, luminous scenes brimming with fanciful details.
 
La Madre Goose will make a playful multicultural addition to every modern bookshelf.


A Chicago Public Library Best Book of 2016
About the Author
---
Susan Middleton Elya is the author of many books that cleverly incorporate Spanish vocabulary into lively verse, including Little Roja Riding Hood, illustrated by Susan Guevara, and Oh No, Gotta Go!, illustrated by G. Brian Karas. Her writing has been described as "Perfect for bilingual classes stretching their English wings and a charming way to introduce Spanish to English speakers" (Kirkus Reviews, starred review).

Juana Martinez-Neal grew up and studied painting in Lima, Peru, and now lives with her family in Scottsdale, Arizona. Her children appear in the artwork for "Little Boy Azul," "Twinkle, Twinkle, Small Estrella," and "I See la Luna," and their playfulness inspired many of the antics in the other scenes. This is her first picture book.
Praise For…
---
"Elya even gives old rhymes new, culturally relevant makeovers. . . . Martinez-Neal's softly textured illustrations combine acrylics and colored pencils to beautiful effect. Scenes spill across single- and double-page spreads, sweetly bringing the rhymes to life. Martinez-Neal's talent is perhaps best represented in the diverse faces of the children she draws, whose genuine emotions pair perfectly with the rhymes they accompany. A lovely multicultural addition to the nursery rhyme shelf."--Booklist


"Susan Middleton Elya instigates linguistic playfulness . . . by plaiting English nursery rhymes with bold-faced words in Spanish. . . . Soft-edged, softly colored illustrations by Juana Martinez-Neal give this picture book a cozy feel."--Wall Street Journal


"Elya reinterprets 18 classic nursery rhymes, incorporating Spanish vocabulary into offerings like 'Three Little Gatitos' (who have lost their mitoncitos) and 'Little Miss Amarilla,' who 'sat in her silla,/ eating her beans and arroz.' Debut illustrator Martinez-Neal contributes ultra-cozy mixed-media scenes featuring multiethnic children and anthropomorphic animals."--Publishers Weekly


"Elya presents the familiar rhymes with a twist, following her usual formula of interlingual rhyming text. . . The book's forte is Martinez-Neal's soft and delightful illustrations, which capture the sweetness and warmth of the tales. . . A glossary is appended, which includes the Spanish words used, their pronunciation, and their meaning in English, with the goal of introducing English speakers to Spanish words that are not traditionally used in interlingual picture books."--School Library Journal