Your Dog: The Owner's Manual: Hundreds of Secrets, Surprises, and Solutions for Raising a Happy, Healthy Dog (Hardcover)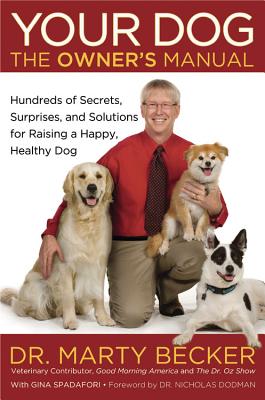 $25.99
Email or call for price.
Description
---
Through surprising facts, moving stories and tested solutions, the veterinary expert from Good Morning America and The Dr. Oz Show will give every dog owner the secrets to raising a healthy, well-behaved dog.

For anyone who owns a dog or is thinking about getting one, Dr. Marty Becker's manual is a must-have guide to anything and everything canine. In Your Dog: The Owner's Manual, the "best-loved family doctor for pets" shares insider secrets on how to keep puppy problems from becoming doggy disasters and how to best bond with your dog through helpful, easily accessible tips and tricks on how to:

Find the right dog for your family's lifestyle
Solve the most annoying behavioral problems
Make sure your dog gets the exercise he needs
Use food puzzles to prevent weight gain
Prevent dog health problems
Save money on medication, both traditional and alternative

For seasoned dog owners as well as those looking to adopt a new friend, Dr. Becker provides all the insight that makes for both happy owners and happy dogs.
About the Author
---
Dr. Marty Becker, "America's Veterinarian," has been the popular contributor to ABC-TV's Good Morning America for 10 years, and is the resident veterinarian on The Dr. Oz Show. He writes a Universal Uclick Syndicated column with Gina Spadafori, Pet Connection; is a contributor to Parade Magazine, and was voted "companion animal Veterinarian of the year." He is also co-author of the fastest-selling pet book in history, Chicken Soup for the Pet Lover's Soul. Dr. Becker still enjoys his work as a practicing veterinarian, at the North Idaho Animal Hospital.

Gina Spadafori is a veteran journalist who has been writing about pets and their care as a syndicated columnist and author. Her top-selling book, Dogs for Dummies, was given the President's Award for the best writing on dogs and the Maxwell medallion for the best general reference work.
Praise For…
---
"Chock full of practical advice on both behavior and health. Anyone who is getting their first dog should read this informative book."
-Temple Grandin, Author of Animals in Translation and Animals Make us Human

"What a great reference to have on hand! YOUR DOG is such a blessing to all of us dog lovers everywhere. Good advice from someone we can trust."
-Betty White,award-winning actress

"I love dogs, yet being on the road 250 days a year makes it tough to have one. But when I finally get my dog I'll have the answers right at my fingertips. Well done, Dr. Becker!"
-Ty Pennington,host of Extreme Makeover: Home Edition

"This book has every type of pet parent tip a dog owner needs. The only thing Marty forgot was to remind people to always be nice to your doggies because they have seen you naked."
-Joy Behar,host of The Joy Behar Show and co-host of The View

"Dr. Marty Becker packs thirty-plus years of veterinary experience and a lifelong love of dogs into an easy-to-read guide to the joys and responsibilities of being the owner your pet deserves."
-Robin Ganzert, PhD, President and CEO, American Humane Association

"Loaded with practical, useful information--including how to choose a canine companion from a shelter, rescue group, or reputable breeder while avoiding puppy mills--Dr. Marty Becker's new book is a must read."
-Dr. Steven Hansen, Chief Operating Officer, ASPCA

"I've had dogs my whole life, and didn't realize there was so much more to know about them! I learned some new tricks from Marty that I can't wait to try on my tail-waggers . . . a complete dog-care book no canine-lover should be without!"
-Jack Hanna, Director Emeritus, Columbus Zoo, and host of Into the Wild

"An easy and fun read . . . We all want a happy dog that is easy to live with. Dr. Marty Becker does a great job shedding light on the foundation necessary to enjoy life with a dog as a part of the family."
-Tamar Geller, Author of The Loved Dog, Founder of Operation Heroes & Hounds

"A must-have book for any dog-lover. It provides current facts with helpful recommendations for loving and living with our dogs through their lifespan."
-Rebecca Johnson, PhD, RN, FAAN, Director, Research Center for Human Animal Interaction, College of Veterinary Medicine, University of Missouri

"An insightful and positive guide to making the most of life shared with a canine friend . . . encouraging and thorough: Fewer dogs would end up in a shelter if their owners read this book!"
-Wilma Melville, Founder, National Disaster Search Dog Foundation

"At last! One commonsense book leading the new pet parent through the sometimes-daunting maze of raising the perfect dog."
-Susan Sims, Publisher, FIDO Friendly magazine

"This is a must-have, one-stop-shop for anyone who has a dog or wants a dog. Rooted in science and written with love, this book will help us all become better people to our dogs."
-W. Bruce Cameron, Author of the New York Times bestseller A Dog's Purpose

"Not only do we learn a lot about the marvelous dogs Dr. Becker has known and loved, we feel like we're sitting with him as he tells us stories of his life and family . . . His writing is filled with humor, intelligence, and, most importantly, the wisdom that comes from a life well led."
-Homer Hickam, Author of Rocket Boys and October Sky

"Dogs make us human, and with this much at stake you want your dog at your side and this book backing you up."
-Michael Capuzzo, Bestselling Author of The Murder Room and co-author of Mutts: America's Dogs

"Excellent educational value and practical guidance."
-Karen Pryor, Author, Biologist, CEO KPCT/clickertraining.com"

Dr. Becker notes that "Part of the problem is that while dogs haven't changed that much, our relationship with them has changed a great deal in a short amount of time." He takes that poignant observation and develops an incredibly readable book that is fun reading while being filled with important life-saving information for the dedicated dog owner.
-Alan M. Beck, Sc.D., Professor and Director, Center for the Human-Animal Bond Purdue University, School of Veterinary Medicine

"You need this book because your dog can't tell you what it needs. And if it could tell you what it needs, it would just say it needs steak. And that's not helpful. This book is."
-John Scalzi, New York Times Bestselling Author of Old Man's War and Fuzzy Nation

"Like its author, YOUR DOG is warm, friendly and packed with information."
-Terry Ryan, Dog training class instructor and member of the behavior and training advisory board of the American Humane Society in 2010

"As dean of a veterinary college, and over 35 years as a veterinarian, I can attest to the excellent educational value and practical guidance provided in Dr. Becker's recent book: YOUR DOG: THE OWNER'S MANUAL. Successfully selecting, training, exercising, and owning a dog that fits your lifestyle, should not be taken lightly, nor should they be random events. It requires a well thought-out process and this book will guide you through the myriad of possibilities."
-Neil Olson, Dean, College of Veterinary Medicine, University of Missouri

"I wish every dog parent would read this book. Sure, it is chock-full of tips and advice, but with his fun and deeply personal style, Dr. Marty Becker brings us a little closer to understanding our dogs through his enlightening anecdotes and user-friendly interpretations of veterinary science. I have read a bookshelf full of dog books, but still enjoyed every page of this one. "America's Veterinarian" gets it right again!"
-Betsy Banks Saul, Founder, Petfinder.com

"Your Dog: The Owner's Manual is one of the most timely approaches to animal ownership in our generation. As a veterinary colleague, I deeply appreciate the rational, common sense approach you use in addressing difficult issues, misleading dogma, and well-meaning but dangerous practices in dog rearing."
-Phillip D. Nelson, DVM, PhD, Dean, College of Veterinary Medicine, Western University of Health Sciences

"Here's an expert who loves people as much as he loves dogs! Marty Becker is on your side from beginning to end, and will help you have the relationship that you (and your dog!) always wanted.
-Patricia B. McConnell, Ph.D, CAAB, Author of The Other End of the Leash and For the Love of a Dog