Dietland (Paperback)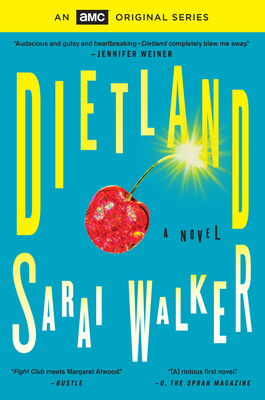 $15.99

Backordered. Please call 508.548.5548 for more information.
June 2015 Indie Next List
---
"Meet Plum, a woman who has forever defined herself by her obesity and who gets through her daily routine by looking forward to the life that will come after her weight-loss surgery. When Plum discovers that she is being followed by a strange girl, her life is changed forever. While Plum embarks on her journey of self-acceptance, a violent feminist crusade takes the world by storm. As the two storylines converge, readers witness an unexpected transformation. This is a fun, no-apologies-offered debut!"
— Tess Fahlgren, Fact & Fiction, Missoula, MT
Description
---
AN AMC ORIGINAL SERIES
FROM EXECUTIVE PRODUCER MARTI NOXON, 
STARRING JOY NASH AND JULIANNA MARGULIES

A Best Book of the Year
Entertainment Weekly • Bustle • Amazon • Women's National Book Association • Kirkus Reviews • BookPage • Kobo • LitReactor
  
"Audacious and gutsy and heartbreaking — Dietland completely blew me away." — Jennifer Weiner

The diet revolution is here. And it's armed.
 
Plum Kettle does her best not to be noticed, because when you're fat, to be noticed is to be judged. With her job answering fan mail for a teen magazine, she is biding her time until her weight-loss surgery. But when a mysterious woman in colorful tights and combat boots begins following her, Plum falls down a rabbit hole into the world of Calliope House — an underground community of women who reject society's rules — and is forced to confront the real costs of becoming "beautiful." At the same time, a guerilla group begins terrorizing a world that mistreats women, and Plum becomes entangled in a sinister plot. The consequences are explosive.

"A giddy revenge fantasy that will shake up your thinking and burrow under your skin" (Entertainment Weekly), Dietland takes on the beauty industry, gender inequality, and our weight-loss obsession — with fists flying.
About the Author
---
Sarai Walker is the author of the novel Dietland, which has been published in more than a dozen countries and adapted as a television series for AMC. She has lectured on feminism and body image internationally, and has spoken about these topics widely in the media. Her articles and essays have appeared in The New York Times, The Washington Post, The Guardian and elsewhere, and she worked as a writer and editor on an updated version of Our Bodies, Ourselves. She holds an MFA in creative writing from Bennington College and a PhD in English from the University of London. She lives in Philadelphia.
Praise For…
---
An Amazon Top 100 Editors' Pick of the Year One of Entertainment Weekly's "10 Best Books of 2015" One of Bustle's "2015's 25 Best Books, Fiction Edition" A New York Post "Best Novel to Read This Summer" An Us Weekly "Hot Summer Novel" O, The Oprah Magazine, "10 Titles to Pick Up Now" A USA Today "New and Noteworthy" Book One of Vulture's "8 Books You Need to Read This May" A Kirkus "Best Fiction of 2015" Title One of BookPage's "Best Books of 2015" One of Kobo.com's "Must Read Fiction Debuts of 2015" A LitReactor Staff Pick: The Best Books of 2015 One of New York Daily News's "10 Books for Your Summer Reading List" Women's National Book Association, "Great Group Reads 2015" An Indie Next Pick "Dietland completely blew me away. It's audacious and gutsy and heartbreaking and I want to grab women on the street and shake them until they promise to read it—and also buy copies for their daughters." —Jennifer Weiner, #1 New York Times bestselling author of Good In Bed, In Her Shoes, and others "Walker's first novel leaves chick lit in the pixie dust, treading the rougher terrain of radical critique and shadowy conspiracies — territory closer to Rachel Kushner than Helen Fielding."—New York Magazine, One of Vulture's "8 Books You Need to Read This May" "If Amy Schumer turned her subversive feminist sketches into a novel, dark on the inside but coated with a glossy, palatable sheen, it would probably look a lot like Dietland—a thrilling, incendiary manifesto disguised as a beach read...It's a giddy revenge fantasy that will shake up your thinking and burrow under your skin, no matter its size."—Entertainment Weekly (Grade: A) "I've never dropped anyone out of a helicopter. But Dietland resonated with the part of me that wants, just once, to deck a street harasser. At the very least, I wish an incurable itch upon everyone who has catcalled me on the street. I wish food poisoning and public embarrassment on everyone I've heard make a rape joke. I wish toothache and headlice and too-small shoes upon every stranger who has told me to smile. Which is to say, sometimes I forget I'm angry, but I am. Dietland is a complicated, thoughtful, and powerful expression of that same anger."—Annalisa Quinn, NPR.org "Plum Kettle, a ghostwriter for a popular teen mag, is lured into a subversive sisterhood in this riotous first novel. Finally, the feminist murder mystery/makeover story we've been waiting for."—O, The Oprah Magazine, One of "10 Titles to Pick Up Now" "A delightful, page-turning thriller that's also a feminist revenge fantasy. I tore through it in about two days—it is amazingly accessible while still being whip-smart, and it deals with timely issues without feeling like a lame Law & Order 'ripped from the headlines' stunt."——Jessica Grose, Lenny Letter "[Ms. Walker's] writing can spit with venom, at the rigid expectations of women's weight and sexuality...As a social commentary, Dietland is no shrill tirade. Ms. Walker captures the misery of failing to fit in, to fit into the right clothes, to fit in with the right people and their expectations.