The Weight of Ink (Hardcover)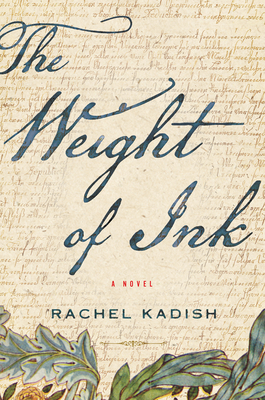 Call for price: 508-548-5548
Staff Reviews
---
Two women, centuries apart, work on sacred Jewish scriptures. Helen Watt, an expert historian with a love of Jewish history, is called to verify ancient scrolls that have been discovered hidden below a staircase in an old family house outside London, and Ester Velasquez, a young woman in 1660s London, serves as a scribe for a blind rabbi — a position women were not allowed to assume. Both women are incredibly devoted to their work and the history to which they are indirectly witnesses; however, their choices have come with a cost. In this work of historical fiction, Rachel Kadish has delved into the details of Jewish life in the 17th and 21st centuries, and composed a novel that is testament to the power of the written word.
~ Eight Cousins, Holiday Picks 2017
— From
Holiday Picks 2017
Description
---
WINNER OF A NATIONAL JEWISH BOOK AWARD
A USA TODAY BESTSELLER

An intellectual and emotional jigsaw puzzle of a novel for readers of A. S. Byatt's Possession and Geraldine Brooks's People of the Book

Set in London of the 1660s and of the early twenty-first century, The Weight of Ink is the interwoven tale of two women of remarkable intellect: Ester Velasquez, an emigrant from Amsterdam who is permitted to scribe for a blind rabbi, just before the plague hits the city; and Helen Watt, an ailing historian with a love of Jewish history. 

As the novel opens, Helen has been summoned by a former student to view a cache of seventeenth-century Jewish documents newly discovered in his home during a renovation. Enlisting the help of Aaron Levy, an American graduate student as impatient as he is charming, and in a race with another fast-moving team of historians, Helen embarks on one last project: to determine the identity of the documents' scribe, the elusive "Aleph."
 
Electrifying and ambitious, sweeping in scope and intimate in tone, The Weight of Ink is a sophisticated work of historical fiction about women separated by centuries, and the choices and sacrifices they must make in order to reconcile the life of the heart and mind.
About the Author
---
RACHEL KADISH is the award-winning author of the novels From a Sealed Room and Tolstoy Lied: A Love Story, and of the novella I Was Here. Her work has appeared on NPR and in the New York Times, Ploughshares, and Tin House. She lives in the Boston area. 
Praise For…
---
A USA Today Bestseller
Winner of a National Jewish Book Award
Winner of the Association of Jewish Libraries Jewish Fiction Award 
An Amazon Best Book of the Year
Winner of the Boston Authors Club Award for Fiction
One of Ms. Magazine's "Bookmark" Titles
One of The Jewish Exponent's "2017's Top Reads"

"A gifted writer, astonishingly adept at nuance, narration, and the politics of passion."
—Toni Morrison

"Rachel Kadish's The Weight of Ink is like A.S. Byatt's Possession, but with more seventeenth-century Judaism...A deeply moving novel."
—New Republic

"I gasped out loud…[Kadish has a ] mastery of language…[The Weight of Ink] was so powerful and visceral…Incredible…I haven't been able to read a book since."
—Rose McGowan, New York Times Book Review Podcast  

"Rachel Kadish's novel The Weight of Ink is my top Jewish feminist literary pick. Kadish's novel weaves a web of connections between Ester Velasquez, a Portuguese Jewish female scribe and philosopher living in London in the 1660s, and Helen Watt, a present-day aging historian who's trying to preserve Ester's voice even as she revisits her own repressed romantic plot.  Both Ester and Helen are part of a long literary line of what writer Rebecca Goldstein has termed 'mind-proud women.'" 
—Lilith, "7 Jewish Feminist Highlights of 2017"

"This book is historical fiction with a side of philosophy set in London, and it explores choices for women in different time periods. What impacts your choices? Do you have candles to read by? Do you have access to books, mentorship and education? What will it take to bring your passions to life? You'll think about all that and more as you read this novel."
—Ms. Magazine, "Feminist Fiction Books to Curl Up With for the Holidays"

"So many historical novels play with the 'across worlds and centuries trope,' but this one really delivers, tying characters and manuscripts together with deep assurance. A book to get lost in this summer."
—Bethanne Patrick, LitHub

"A page-turner. Kadish moves back and forth in time (including an excursion to Israel in the 1950s) with great skill. She knows how to generate suspense – and sympathy for her large cast of characters...packed with fascinating details...The Weight of Ink belongs to its women...Kadish's most impressive achievement, it seems to me, lies in getting readers to think that maybe, just maybe, a woman like Esther could have existed in the Jewish diaspora circa 1660."
—Jerusalem Post    

"An amazing feat...A great literary and intellectual mystery...you feel as if you're sifting through these letters yourself...a very immersive summer read."
—Megan Marshall, "Authors on Authors" for Radio Boston 

"A superb and wonderfully imaginative reconstruction of the intellectual life of a Jewish woman in London during the time of the Great Plague." 
—Times Higher Education 

"An impressive achievement...The book offers a surprisingly taut and gripping storyline...The Weight of Ink has the brains of a scholar, the drive of a sleuth, and the soul of a lover."
—Historical Novel Society 

"Deeply satisfying to anyone who enjoyed Geraldine Brooks' People of the Book...[The Weight of Ink is a] historical epic that transports readers back to the days of Shakespeare, Spinoza and the Great Plague, uncovering some rich details of Jewish life in the 1600s along the way."
—Jewish World News

"Kadish knows how to create a propulsive plot peopled with distinctive characters. The Weight of Ink has enough mysteries to keep readers turning pages, and a fair amount of thematic and intellectual heft...Rewarding."
—The Forward

"This astonishing third novel from Kadish introduces readers to the 17th-century Anglo-Jewish world with not only excellent scholarship but also fine storytelling. The riveting narrative and well-honed characters will earn a place in readers' hearts."
—Library Journal, starred review

"Like A.S. Byatt's Possession and Tom Stoppard's Arcadia, this emotionally rewarding novel follows […] present-day academics trying to make sense of a mystery from the past…Vivid and memorable."
—Publishers Weekly

"A mysterious collection of papers hidden in a historic London home sends two scholars of Jewish history on an unforgettable quest....Kadish's characters are memorable, and we're treated to a host of them: pious rabbis and ribald actors, socialites and troubled young men, Mossad agents and rule-worshipping archivists. From Shakespeare's Dark Lady to Spinoza's philosophical heresies, Kadish leaves no stone unturned in this moving historical epic. Chock-full of rich detail and literary intrigue."
—Kirkus Reviews 

"Kadish positions two women born centuries apart yet united by a thirst for knowledge at the core of a richly textured, addictive novel stretching back and forth through time, from contemporary London to the late seventeenth century....Kadish has fashioned a suspenseful literary tale that serves as a compelling tribute to women across the centuries committed to living, breathing, and celebrating the life of the mind."
—Booklist

"The Weight of Ink hooked me so deeply...Kadish, with storytelling genius, mirrors events and eureka moments across the centuries, binding the characters to one another. And an enormously satisfying ending wraps everything up while leaving enough rough edges to mimic the loose ends of real life."
—Adrian Liang, The Amazon Book Review

"The Weight of Ink is the best kind of quest novel—full of suspense, surprises and characters we care passionately about.  How thrilling it is to watch the imperious Helen and the scholarly Aaron turn into brilliant literary detectives as they uncover the identity of a woman who lived more than 300 years ago, and how thrilling it is to get to know that woman intimately in her own time.  A beautiful, intelligent and utterly absorbing novel."
—Margot Livesey, author of Mercury
 
"Rachel Kadish draws us deep inside the vivid, rarely-seen world of 17th century Jewish London, conjuring the life and legacy of an extraordinary woman with an insatiable hunger for knowledge and education. A vital testament to the importance of books and ideas, The Weight of Ink unfolds like a revelation."
—Kate Manning, author of My Notorious Life
 
"From its opening pages The Weight of Ink signals its reverence for words, both those from which the narrative is constructed and those which lie at the heart of its story—for this a novel about the importance of words: written and spoken, historical and contemporary, hidden away and brought to light. Rachel Kadish has fashioned a literary mystery spanning centuries, continents and languages; a mystery of great moral stakes and elemental human desires."
—Leah Hager Cohen, author of No Book but the World

"The Weight of Ink tells of the struggle and the triumph of a woman trying to do justice to the largeness of her intellect and ambition. As audacious in its conception as it is brilliant in its execution."
—Rebecca Newberger Goldstein, author of Plato at the Googleplex: Why Philosophy Won't Go Away

"Rarely have I read a contemporary novel that so immersed me in its world and drew me so deeply into the lives of its characters. Rachel Kadish is a brilliant story-teller, with a mystery writer's instinct for pacing and a willingness to take on the largest human questions. The Weight of Ink is astonishing."
—Carol Gilligan, author of In a Different Voice