The Great Greene Heist (Prebound)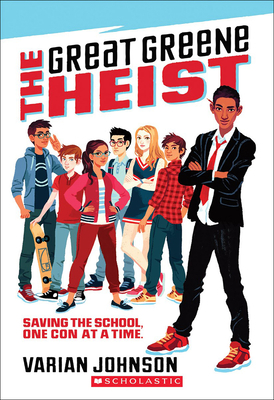 Call for price: 508.548.5548
It is unlikely that we will be able to order this item. Please call 508.548.5548.
Staff Reviews
---
Eight Cousins Pick of the Year 2014
Jackson
Greene has worked diligently for the past four months to rehabilitate
his reputation after the Kelsey Job - or the Mid Day PDA as everyone
else at Maplewood Middle School likes to call it. Getting caught kissing
Katie Accord outside Principal Kelsey's office was never part of the
plan and Jackson is usually an excellent planner (Rule #1: No matter how
simple a job looks, always plan before you act). That particular job
was supposed to go differently. It wasn't supposed to alienate his best
friend Gaby de la Cruz. And it definitely wasn't supposed to end with
him losing cell phone privileges and having weekly meetings interrogations with the principal. Jackson, understandably, isn't keen
to plan any more cons. He's retired. The Great Greene Heist is
a fast-paced adventure, perfect for middle-grade readers who like
school stories, mysteries, and appreciate a touch of style. Jackson is
smart, classy, and a fantastic new character.
Description
---
Saving the school -- one con at a time. (And in paperback )
"A political heist page-turner set in middle school? Is that even possible? Varian Johnson shows us how it's done." - Gordon Korman, author of SWINDLE
"Do yourself a favor and start reading immediately." - Rebecca Stead, author of WHEN YOU REACH ME
Jackson Greene swears he's given up scheming. Then school bully Keith Sinclair announces he's running for Student Council president, against Jackson's former friend Gaby de la Cruz. Gaby wants Jackson to stay out of it -- but he knows Keith has "connections" to the principal, which could win him the presidency no matter the vote count.
So Jackson assembles a crack team: Hashemi Larijani, tech genius. Victor Cho, bankroll. Megan Feldman, science goddess. Charlie de la Cruz, reporter. Together they devise a plan that will take down Keith, win Gaby's respect, and make sure the election is done right. If they can pull it off, it will be remembered as the school's greatest con ever -- one worthy of the name THE GREAT GREENE HEIST.
About the Author
---
Varian Johnson is the author of four novels, including THE GREAT GREENE HEIST, an ABA Best Book for children, and MY LIFE AS A RHOMBUS. He lives with his wife and daughters near Austin, Texas. Please visit his website at www.varianjohnson.com or follow him on Twitter at @varianjohnson.