Gabriel Method Recipe Book (Hardcover)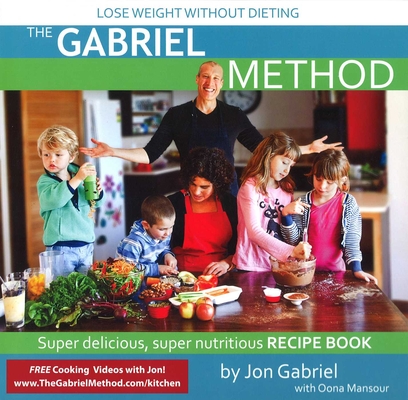 $15.99
Email or call for price.
Description
---
Join the movement for permanent, sustainable, weight loss...

What started out as a best selling book, The Gabriel Method has now become an international movement for health, well-being, and diet-free sustainable weight loss. And now, Jon Gabriel has put together his most cherished recipes in this amazing cookbook. This recipe book contains quick and easy Gabrielicious recipes the entire family will enjoy. These recipes will give you high energy during the day and help you burn fat while you sleep. You'll be amazed at how rich and flavorful eating The Gabriel Method way can be.

Here's What You'll Find:
Fast and simple breakfasts
Protein-rich snacks
Omega-3 everything
Wheat-free pancakes & brownies
Savory dinners
Hearty soups & snacks

About the Recipe Book
272 pages of super delicious, super nutritious recipes
Photos of every single recipe
Simple-to-make everything (no chef skills required)
About the Author
---
Jon Gabriel has a Bachelor of Science in Economics from the Wharton School at the University of Pennsylvania. Although his background is in finance, he also pursued extensive coursework in biochemistry, organic chemistry, and biology and performed research for the internationally recognized biochemist Dr. Jose Rabinowitz.

In 1990, Jon started gaining weight for no apparent reason. He tried every diet and program he could to lose weight but in the end, he just kept gaining. The more he dieted, the more he gained. The situation became critical in mid-2001 when he became morbidly obese and reached a weight of 409 pounds. He wasn't sleeping well, could hardly reach his shoes to tie them, and had a diminished quality of life that was literally killing him with every breath.

On September 11, 2001, he was scheduled to fly from Newark to San Francisco, and it was only by a stroke of luck that he was not on the United Airlines flight 93 that was hijacked. This event, as well as some equally life-changing events that occurred in the weeks following 9/11, affected him deeply. It was this wake-up call that made him realize life was a precious opportunity not to be wasted. He decided to start living the life of his dreams. He also decided to apply all of his research skills and scientific background toward understanding and eliminating the real reasons for why he was fat. The result is arguably one of the most remarkable physical transformations of all time. Jon lost 225 pounds without dieting and without surgery. Amazingly, his body shows almost no signs of ever being overweight at all—a fact that has astounded many professionals in the medical community.

After finishing The Gabriel Method, he used his powerful visualization techniques—the power that had brought him a new body and a new lease on life—to bring him an agent that was connected with the very publisher he wanted to work with. Countless letters from fans and those who have used his books continue to pour in, and Jon has received several awards for his work, appeared on radio and television, and continues to use his amazing story to change lives for the better. Jon is an established speaker in Australia and has done many talk shows and events there. He has previously been in contact with Oprah's producers, who had some substantial interest in the astounding message of his work.
Praise For…
---
"The most comprehensive and scientifically meaningful method I've ever encountered."
— Dr. Jean Bokelman M.D., Director Endobiogenic Integrative Medical Center

"I would just like to thank you from the bottom of my heart for the amazing cook book. It is amazing! It has given me so many new and interesting ideas. I made the Prawn Laksa (page 108) last night, and it was absolutely delicious! Today I made the Choc Seed treats (page 73) and they are amazing! I love what you are doing!"
— Kath Sinclair, Australia