She's Come Undone (Paperback)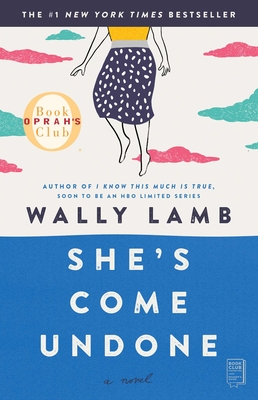 $18.00
Currently not in store. Available to order. Usually Ships in 1-5 Days
Description
---
The paperback edition of the beloved, bestselling novel about Dolores Price and her heartbreakingly comical coming-of-age journey.

"Mine is a story of craving: an unreliable account of lusts and troubles that began, somehow, in 1956 on the day our free television was delivered...."

Meet Dolores Price. She's thirteen, wise-mouthed but wounded, having bid her childhood goodbye. Beached like a whale in front of her bedroom TV, she spends the next few years nourishing herself with the Mallomars, potato chips, and Pepsi her anxious mother supplies. When she finally rolls into young womanhood at 257 pounds, Dolores is no stronger and life is no kinder. But this time she's determined to rise to the occasion and give herself one more chance before really going belly up.

In this extraordinary coming-of-age odyssey, Wally Lamb invites us to hitch a wild ride on a journey of love, pain, and renewal with the most heartbreakingly comical heroine to come along in years. At once a fragile girl and a hard-edged cynic, so tough to love yet so inimitably lovable, Dolores is as poignantly real as our own imperfections. She's Come Undone includes a promise: you will never forget Dolores Price.
About the Author
---
Wally Lamb is the author of six New York Times bestselling novels: I'll Take You There, We Are Water, Wishin' and Hopin', The Hour I First Believed, I Know This Much is True, and She's Come Undone. Lamb also edited Couldn't Keep It to Myself and I'll Fly Away, two volumes of essays from students in his writing workshop at York Correctional Institution, a women's prison in Connecticut, where he has been a volunteer facilitator for seventeen years. Lamb lives in Connecticut with his wife, Christine, and they have three sons.
Praise For…
---
Glamour A heroine to cheer for....This supremely touching journey to adulthood may remind you of The World According to Garp and other sagas of emotional liberation.

People There are at least two surprises in store for readers of Lamb's memorable debut novel. One is the author's sex. This male writes so convincingly in the voice of a female, tracing her life from 4 to 40, that you have to keep looking back at the jacket picture just to make sure. The second surprise is how such a string of trials and tribulations can add up to such a touchingly funny book...