The Whydah: A Pirate Ship Feared, Wrecked, and Found (Hardcover)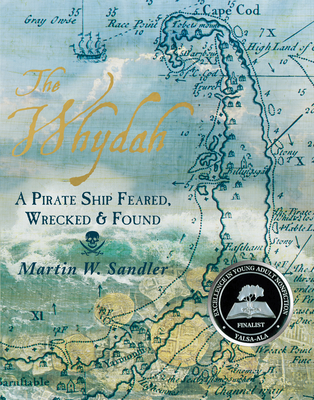 $19.99
Currently not in store. Available to order. Usually Ships in 1-5 Days
Staff Reviews
---
Pirates, ships and sunken treasure come to life in Martin Sandler's intriguing account of the sunken pirate ship Whydah, discovered off our local coast of Cape Cod in 1984. The wreckage, along with its cargo of priceless pirated treasures, rested on the ocean floor, undiscovered for almost three hundred years. Sandler recounts the historical journey of this great vessel from its beginnings as a merchant and slave ship to the capture by bold pirates and then to the ship's recovery. The Whydah is a 'treasure' to be enjoyed by children and adults.
~ Eight Cousins, Holiday Picks 2017
— From
Holiday Picks 2017
Description
---
A 2018 YALSA Award for Excellence in Nonfiction for Young Adults Finalist

The exciting true story of the captaincy, wreck, and discovery of the Whydah — the only pirate ship ever found — and the incredible mysteries it revealed.

The 1650s to the 1730s marked the golden age of piracy, when fearsome pirates like Blackbeard ruled the waves, seeking not only treasure but also large and fast ships to carry it. The Whydah was just such a ship, built to ply the Triangular Trade route, which it did until one of the greediest pirates of all, Black Sam Bellamy, commandeered it. Filling the ship to capacity with treasure, Bellamy hoped to retire with his bounty — but in 1717 the ship sank in a storm off Cape Cod. For more than two hundred years, the wreck of the Whydah (and the riches that went down with it) eluded treasure seekers, until the ship was finally found in 1984 by marine archaeologists. The artifacts brought up from the ocean floor are priceless, both in value and in the picture they reveal of life in that much-mythologized era, changing much of what we know about pirates.
About the Author
---
Martin W. Sandler has written more than seventy books for children and adults, including Iron Rails, Iron Men, and the Race to Link the Nation: The Story of the Transcontinental Railroad and The Impossible Rescue: The True Story of an Amazing Arctic Adventure. Martin W. Sandler lives with his wife on Cape Cod.
Praise For…
---
Sandler's approach to the Whydah and other submerged ships as "sunken time capsules" is an interesting angle that is sure to resonate with aspiring archaeologists. A captivating read on pirates, with insights into contemporary underwater research techniques. Considering the popularity of the subject, this volume will likely not sit on shelves long.
—School Library Journal (starred review)

Sandler offers an insightful look at how different the realities of pirate life were compared to how it has been mythologized in popular culture...A fascinating, vivid look at what one shipwreck reveals about the realities of the "Golden Age of Piracy."
—Kirkus Reviews

This book brings to life...The account of the challenges Clifford and his crew had to face to find the Whydah is very thorough.
—School Library Connection

Sandler's broad research and his evident fascination with the subject result in a multifaceted story that many readers will find rewarding.
—Booklist

Sandler keeps the multiple threads of Whydah's story running smoothly, even integrating legends about Bellamy and the haunted wreckage seamlessly into the factual information...Weighing in well under two hundred pages, this quick high interest read is an ideal recommendation for kids who "have to read a nonfiction book," and pirate and archaeology enthusiasts will certainly be thrilled.
—Bulletin of the Center for Children's Books

Sandler enlivens the historical narrative by fleshing out the biographical details of the cast of characters, sharing (and occasionally debunking) various myths and legends, providing an overview of the relevant social and economic factors of the day, and spotlighting the work of excavating the shipwreck site. Useful photographs, maps, and sidebars are interspersed throughout, while source notes, bibliography, and index are appended.
—The Horn Book

Fast-paced, thorough, and fascinating, this choice is certain to especially hold the interest of any pirate lover and treasure hunter.
—Reading Eagle (from Kendal Rautzhan's "Books to Borrow")