Chik Chak Shabbat (Paperback)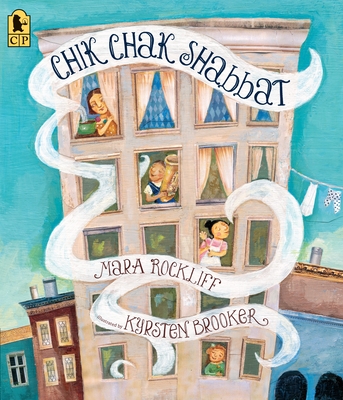 $7.99
On Our Shelves Now Online inventory updates every 24 hours. Call 508.548.5548 to verify.
Description
---
"As warm and comforting as a bowl of cholent, this does a fine job of showing how the American mosaic can also be a satisfying whole." — Booklist (starred review)

When Goldie Simcha doesn't joyfully throw open her door to welcome everyone into her apartment for a meal of her famouscholent, her neighbors wonder what could be wrong. Little Lali Omar knocks on the door to 5-A, only to learn that Goldie was feeling too sick on Friday to cook, and everyone knows you can't make cholent in a hurry, right away, chik chak! But it just isn't Shabbat without cholent. What can her neighbors do to save the day?
About the Author
---
Praise For…
---
Rockliff's lovely, unassuming story of tradition and multicultural community is smartly paired with Brooker's oil and collages. At once homespun and stylish, the pictures speak to the possibilities for human connection in a modern, urban setting.
—Publishers Weekly (starred review)

Delightful. ... As warm and comforting as a bowl of cholent, this does a fine job of showing how the American mosaic can also be a satisfying whole. Brooker's illustrations, which are reminiscent of Gabi Swiatkowska's work, are full of wit and emotion that bring the story alive.
—Booklist (starred review)

This charming story is a celebration of multicultural America and friendship. ... Brooker brings this sweet story to life with full-page, oil-painted, cartoon-style illustrations heavily detailed with clipped-out magazine photos: tableware; cleverly pieced patterned paper clothing; food and dishes. She has infused each character with distinct personality and presents them as a large, caring family, strengthened by their differences, enjoying the Sabbath together.
—School Library Journal

Brooker's oil paint and collage art presents a richly textured assortment of folk and apartments. A warm, cozy and loving depiction of shared culinary traditions around an inviting table.
—Kirkus Reviews

A warm and cheerful tale of multicultural togetherness centered on the ever-popular subject of food. Brooker's combination of oil paint and collage evinces its usual tactile dimensionality, with touches of patterning balancing the robust cheer of her characters' faces and the geometry of the apartment building's architecture provid- ing structure and a bit of theatricality.
—Bulletin of the Center for Children's Books

Rockliff and Brooker evoke a cheerful urban setting through small details about the apartment dwellers and their routines... It's the embodiment of community, warmth, memory, and tradition—in other words, the Jewish observance of Shabbat. Brooker's oil and collage pictures incorporate many different patterns and real items (candles, potholders, fruits and veggies), adding texture to the comfortably cluttered and convivial scenes. A recipe is included.
—The Horn Book

Mara Rockliff packs a lot of learning into this picture book—from the traditions of eating cholent and Shabbat preparations to diverse last names and food selections from around the world to the concept of welcoming the neighbor. Kyrsten Brooker uses oil paint and collage in the joyful and clever illustrations; the ethnic menu items, for example, stand out in collage. ... Highly recommended for ages 3-7.
—Jewish Book Council

In an uplifting story, Chik Chak Shabbat offers a cholent recipe that keeps Goldie's sharing spirit alive.
—Jewish Advocate

Charming... Rockliff's appealing story is sweet, and Brookner's paint-and-collage illustrations carry it along beautifully.
—Star Tribune