Notorious Crimes of the Upper Midwest: Con-Men, Cutthroats, Killers, and Cannibals (Paperback)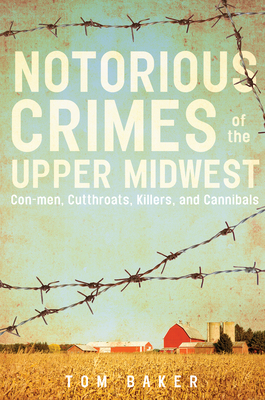 $19.99
Email or call for price.
Description
---
Tour the Upper Midwest to explore the blood-soaked halls of hideous history through twenty dark and demented stories from the corridors of criminal infamy. This expose of true crime examines a historical roster of the bad and the brutal: from old-time con men and gunslingers, to hardcore serial killers of the modern era. Meet the redoubtable Ed Gein; the haunting and harrowing Honeymoon Killers, Raymond Fernandez and Martha Beck; the Gruesome Gal of the Western Plains, Calamity Jane; Wild Bill Hickok; serial sex killer John Norman Collins; Al Capone; Carl Panzram; Larry Eyler; Gwendolyn Graham; George Lester (Babyface Nelsen); John Dillinger; and Frank Gilmer--villains that will leave you infuriated and intrigued at their infernal notoriety. Join the author on a round-up of the rotten as you take a thrill-ride of historic significance in a world gone mad.
About the Author
---
Tom Baker is the author of Haunted Indianapolis (with Jonathan Tichenal), Scary Urban Legends, Midwest Maniacs, Midwest UFOs and Beyond, 50 Famous Fables, and Indiana Ghost Folklore. He has written numerous novels and short pieces. He spends his spare time making experimental music and art and lives in Marion, Indiana.