Amazing Dog Facts and Trivia (Amazing Facts & Trivia #3) (Spiral bound)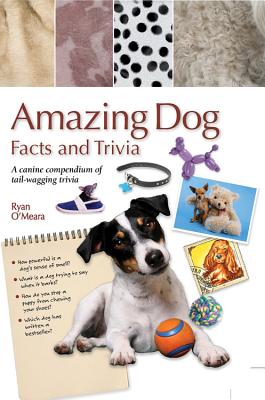 $12.99

Backordered. Please call 508.548.5548 for more information.
Description
---
Each book in the 6.5in x 8in Amazing Facts and Trivia series is beautifully illustrated and contains hundreds of colorful pieces of artwork, photographs, and diagrams. These quirky books are designed to be opened to any page so that readers can discover intriguing stories, facts, tips, and trivia.
As domestic animals go, none has been able to match the rise of the canine. From its wolf ancestors, the dependable dog has established its position as the world's most popular companion animal. The dog has earned the title of man's best friend through centuries of devotion, companionship, dedication, courage and willingness to be whatever we want or need.
In the pages of Amazing Dog Facts and Trivia, you can find out everything you have ever wanted to know about our legendary best friends, as well as lots you probably never thought to ask. Chapters are devoted to the origins and development and to the various dog breeds from Poodles to Labradors to terriers to wiener dogs. You can find details about the physical traits of dogs: their barks, their hearing, and astounding sense of smell. If you're in the market to buy a dog, this book can help you evaluate different breeds, learn how to choose a breeder, and puppy-proof your home. When you get your dog home, this book offers tips on caring, feeding, and playing with your pal. For dog lovers of all breeds, this book is filled with fascinating facts, witty anecdotes, and heart warming tales of canine loyalty.  It is illustrated with striking images of dogs of all types, hundreds of indispensable dog training tips, and amazing canine statistics.
About the Author
---
Ryan OÆMeara is the publisher of K9 Magazine, a popular lifestyle magazine for dog lovers. A former professional dog trainer, Ryan has worked with more than 2,000 dogs. He is the UKÆs ambassador for World Animal Day, and founder of an online dog adoption service.