Dog Lover's Trivia: Weird and Wacky Facts about Our Canine Friends (Hardcover)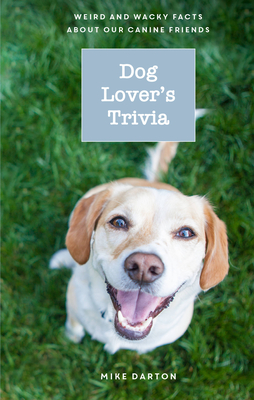 $7.99

Coming Soon - Available for Pre-Order Now
Description
---
Dog Lover's Trivia is an irresistible potpourri of canine facts, embracing the essential, the trivial, the intriguing, and the extraordinary.

Schott's Original Miscellany was a publishing phenomenon. It sired a host of sequels and parodies. But no matter how patiently and for how many years they begged, the potential canine readership was continually left to pine. Until now.

Dog Lover's Trivia is how the original would have appeared had its creator been an obsessive dog owner. Or, indeed, a very literate dog. It parodies the randomness of entry and stylishness of design of the original, but is created entirely for dogs and their doting owners and admirers. The result is a fascinating collection of dog-related facts, including gems such as:
Dog epigraphs
The origins of dog names
An international guide to the word "dog"
The oldest dog
Weights and breeds
Crufts winners
Aesop's fabled dogs
Most popular breeds
Dog bite statistics
Lassie
And dogs on the Titanic
The perfect coffee table book to paw through at random or the latest addition to the satire section of your home library, Dog Lover's Trivia is, in short, the perfect companion for your perfect companion.
About the Author
---
Mike Darton is a writer and editor with a passion for words, a love of animals, and a fascination with animal-related words and phrases. His previous published titles include the collection of canine-inspired words and phrases Dog the Wag, and the dogcentric parody of Schott's Original Miscellany, the inimitable A Dog-Lover's Miscellany.