Fist Stick Knife Gun: A Personal History of Violence (Paperback)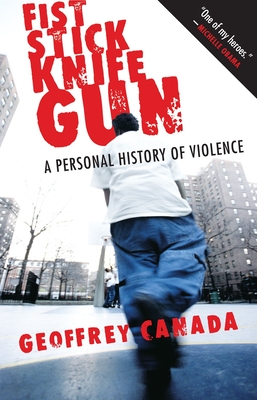 $15.00
On Our Shelves.
Online inventory updates every 24 hours. Call 508.548.5548 to verify.
Description
---
A candid and riveting memoir from the founder of Harlem Children's Zone, taking readers through his Canada in which violence stalked every street corner.
 
Long before the avalanche of praise for his work—from Oprah Winfrey, from President Bill Clinton, from President Barack Obama—long before he became known for his talk show appearances, Members Project spots, and documentaries like Waiting for "Superman", Geoffrey Canada was a small boy growing up scared on the mean streets of the South Bronx. His childhood world was one where "sidewalk boys" learned the codes of the block and were ranked through the rituals of fist, stick, and knife. Then the streets changed, and the stakes got even higher. 
About the Author
---
From 1990 to 2014, Geoffrey Canada served as the president and CEO of Harlem Children's Zone, a nonprofit, community-based organization deemed "one of the most ambitious social experiments of our time" by the New York Times Magazine. Jonathan Kozol called him, "One of the few authentic heroes of New York and one of the best friends children have, or ever will have, in our nation," and Oprah Winfrey simply refers to him as "an angel from God."
Praise For…
---
"A searing memoir . . . Canada's blunt observations are as refreshing as they are bold."
—Paula Woods, San Francisco Chronicle
 
"Geoffrey Canada is one of this country's genuine heroes. His personal meditation on America's culture of violence is a beacon of hope for our humanity."
—Charles Johnson, author of Middle Passage
 
"Canada has never lost touch with the child within himself or with the fears of the children around him struggling to reach adulthood in the violent streets of America."
—Marian Wright Edelman, author of The Measure of Our Success

"Canada takes us on a powerful journey. . . . He is a man of hope and a wonderful storyteller."
—Henry Hampton, executive producer, Eyes on the Prize

"Among the reformers in "Superman," Canada emerges as the brightest star: His blend of intelligence, charisma, and moral urgency is impossible to resist. As the founder and the guiding hand of the Harlem Children's Zone, Canada is engaged in a vastly ambitious social-development project, an attempt to transform 97 hardscrabble square blocks of the city with a comprehensive set of services for the poor, from a "baby college" for new and expectant parents to two charter schools—though he is no charter purist."—New York Magazine

"One of the best books I've ever read in my life. I urge people to go and find it. It's fantastically insightful."—Steve Levitt, Freakonomics