The Impeachers: The Trial of Andrew Johnson and the Dream of a Just Nation (Hardcover)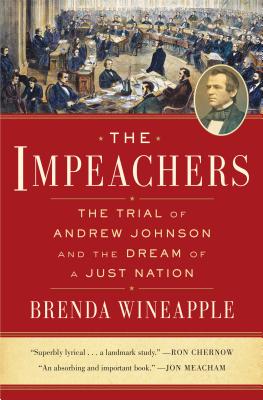 $32.00

On Our Shelves.
Online inventory updates every 24 hours. Call 508.548.5548 to verify.
Description
---
NAMED ONE OF THE BEST BOOKS OF THE YEAR BY Jennifer Szalai, The New York Times • The New York Times Book Review • NPR • Publishers Weekly 

"This absorbing and important book recounts the titanic struggle over the implications of the Civil War amid the impeachment of a defiant and temperamentally erratic American president."—Jon Meacham, Pulitzer Prize–winning author of The Soul of America

When Abraham Lincoln was assassinated and Vice-President Andrew Johnson became "the Accidental President," it was a dangerous time in America. Congress was divided over how the Union should be reunited: when and how the secessionist South should regain full status, whether former Confederates should be punished, and when and whether black men should be given the vote. Devastated by war and resorting to violence, many white Southerners hoped to restore a pre–Civil War society, if without slavery, and the pugnacious Andrew Johnson seemed to share their goals. With the unchecked power of executive orders, Johnson ignored Congress, pardoned rebel leaders, promoted white supremacy, opposed civil rights, and called Reconstruction unnecessary. It fell to Congress to stop the American president who acted like a king.

With profound insights and making use of extensive research, Brenda Wineapple dramatically evokes this pivotal period in American history, when the country was rocked by the first-ever impeachment of a sitting American president. And she brings to vivid life the extraordinary characters who brought that impeachment forward: the willful Johnson and his retinue of advocates—including complicated men like Secretary of State William Seward—as well as the equally complicated visionaries committed to justice and equality for all, like Thaddeus Stevens, Charles Sumner, Frederick Douglass, and Ulysses S. Grant. Theirs was a last-ditch, patriotic, and Constitutional effort to render the goals of the Civil War into reality and to make the Union free, fair, and whole.

Praise for The Impeachers

"In this superbly lyrical work, Brenda Wineapple has plugged a glaring hole in our historical memory through her vivid and sweeping portrayal of President Andrew Johnson's 1868 impeachment. She serves up not simply food for thought but a veritable feast of observations on that most trying decision for a democracy: whether to oust a sitting president. Teeming with fiery passions and unforgettable characters, The Impeachers will be devoured by contemporary readers seeking enlightenment on this issue. . . . A landmark study."—Ron Chernow, Pulitzer Prize–winning author of Grant
About the Author
---
Brenda Wineapple is the author of several books including Ecstatic Nation: Confidence, Crisis, and Compromise, 1848-1877, named a best book of the year by The New York Times, among other publications; White Heat: The Friendship of Emily Dickinson and Thomas Wentworth Higginson, a finalist for the National Book Critics Circle Award; Hawthorne: A Life, winner of the Ambassador Award for Best Biography of the Year; and Sister Brother: Gertrude and Leo Stein. Her numerous other honors include a Literature Award from the American Academy of Arts and Letters, a Pushcart Prize, a Guggenheim Fellowship, an American Council of Learned Societies Fellowship, two National Endowment Fellowships in the Humanities, and, most recently, a National Endowment Public Scholars Award. She is an elected member of the American Academy of Arts and Sciences and of the Society of American Historians and regularly contributes to major publications such as The New York Times Book Review, The New York Review of Books, The Wall Street Journal, and The Nation.
Praise For…
---
"The relevance of this riveting and absorbing book is clear enough . . . literary and incisive . . . vivid and perceptive."—Jennifer Szalai, The New York Times

"Riveting . . . Wineapple has written a stunningly well-timed book on a question ripped from the headlines. Compulsively readable"—John Fabian Witt, The Washington Post

"Ms. Wineapple's gift for portraiture is on display as she sets out her cast of characters. . . . The first instruction to draw from The Impeachers is the importance of stakes."—The Wall Street Journal

"A gifted stylist whose knowledge of the politics of Reconstruction is both intimate and vast. In The Impeachers, [Wineapple] tells an elegant story stuffed with alluring character sketches and dramatic moments, both legal and political."—Michael Kazin, The New Republic

"Approachable, dramatic, even riveting, Wineapple's volume is both guidebook and cautionary tale for our times."—The Boston Globe

"Brenda Wineapple's ambitious and assured volume The Impeachers rightfully recenters the story along the main axis of moral struggle in American history: whether the nation is indeed a democracy for all its citizens or not."—Chris Hayes, The New York Times Book Review

"Riveting and definitive."—Esquire

"This is simply an amazing, mesmerizing book, impossible to put down. And Wineapple brilliantly juggles all the angles and bloodshed in her propulsive narrative."—Providence Journal

"A terrific—and timely—account of the first attempt in American history to impeach and remove a sitting president."—Glenn Atschuler, The Pittsburgh Post-Gazette

"The Impeachers is a historical barn burner of a book—a vivid cast of characters caught in a terrifying and eerily familiar moment in our nation's history. This is history of the best kind—passionate, evocative, razor-sharp, and relevant."—Nathaniel Philbrick, author of In the Hurricane's Eye

"With scholarly authority and literary grace, The Impeachers clarifies, as only a responsible historical work can, an increasingly urgent public question: by what standards ought Congress to consider impeaching and removing a sitting president? As ever, Wineapple's work exemplifies how objectivity need not come at the expense of dramatic engagement, let alone shrewd personal and political judgments."—Sean Wilentz, George Henry Davis 1886 Professor, Princeton University

"This is a terrific book. . . . Not to be missed."—Geoffrey C. Ward, author of A First-Class Temperament: The Emergence of Franklin Roosevelt

"In this superbly lyrical work, Brenda Wineapple has plugged a glaring hole in our historical memory through her vivid and sweeping portrayal of President Andrew Johnson's 1868 impeachment. . . . Teeming with fiery passions and unforgettable characters, The Impeachers will be devoured by contemporary readers seeking enlightenment on this issue. . . . A landmark study."—Ron Chernow, Pulitzer Prize–winning author of Grant

Starred reviews in Publishers Weekly, Kirkus, and Booklist