One Good Thing about America (Hardcover)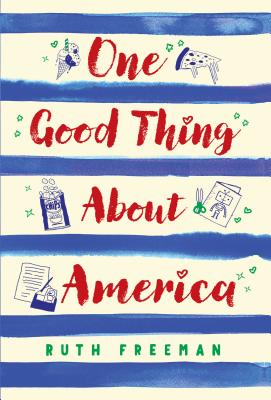 Call for price: 508-548-5548
It is unlikely that we will be able to order this item. Please call 508.548.5548.
Staff Reviews
---
Going to a new school can be a scary experience. Going to a new school where you are different from many of your classmates and struggle with the language can be daunting. Anais, however, manages to hold her own in what she calls "Crazy America." Anais writes almost daily to her grandmother, whose instructions to Anais were to write only in English and to tell her one good thing about America in each letter. Although not an immigrant, author Ruth Freeman draws upon her experience as an English Language Learning teacher in Maine to present our country, in all its peculiarities. As Anais learns about America, we too learn more about ourselves and our country — a timely lesson!
~ Eight Cousins, Holiday Picks 2017
— From
Holiday Picks 2017
Description
---
It's always hard to start at a new school . . . and even harder if you're in a new country.

Back home, nine-year-old Anaïs was the best English student in her class, but here in Crazy America it feels like she doesn't know English at all. Nothing makes sense (chicken fingers?), and the kids at school have some very strange ideas about Africa.
 
Anaïs misses home.  She misses their little house under the mango trees, and the family left behind—Papa and grandmother Oma and big brother Olivier.  She worries about the fighting that drove her and Mama and little Jean-Claude to leave.
 
So she writes letters to Oma and tells her about Halloween, snow, mac 'n' cheese dinners, and princess sleepovers. She tells her all about the weird things Crazy Americans do, and how she just might be turning into a Crazy American herself.
 
Inspired by the author's work with students learning English, this sweet, often funny middle-grade novel explores differences and common ground across cultures.  In contrast to a growing climate of fear and doubt, this story of a refugee child navigating her new life restores hope and reminds us that America is, in fact, a nation of immigrants where we must accept our differences in order to survive—and that's one very good thing.
About the Author
---
Ruth Freeman grew up in rural Pennsylvania but now lives in Maine. She is the author of several successful nonfiction picture books but this is her first novel.
Praise For…
---
"Spanning a school year, this touching novel in epistolary format relates the triumphs and travails of a young Congolese refugee, Anaïs, and her family. . . . Highly recommended for libraries seeking timely stories about the immigrant experience." —School Library Journal
 
"Anaïs' epistolary story, told in easy-to-read letters and charming doodles, might be empowering to English-language learners; and middle-graders unfamiliar with such experiences might find new depths of compassion and understanding."—Booklist