Julius Shulman Los Angeles: The Birth of a Modern Metropolis (Hardcover)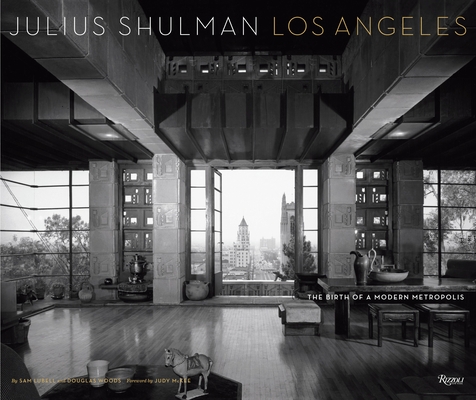 $60.00
Email or call for price.
Description
---
The renowned architectural photographer shares seven decades' worth of images of the city he loved, celebrated, and made iconic. With a life and career spanning nearly a century, Julius Shulman is credited with furthering the midcentury modernism movement through his flawless photographs of the pioneering architecture of Richard Neutra and Charles Eames, among others. While Shulman's pictures comprise the most published images of the modernist movement, this new monograph presents many never-before-seen images on a subject closest to Shulman's heart: Los Angeles and its environs—including Palm Springs and other suburbs. These affecting photographs show Los Angeles as a living organism, simultaneously vibrant and volatile depending on the neighborhood. This tension is apparent in Shulman's documentation of then-emerging areas like Century City, Wilshire Boulevard, and Echo Park, as well as his studies of landmarks like the Watts Towers and Grauman's Chinese Theatre. Many of the Los Angeles buildings and neighborhoods photographed by Shulman have since been overhauled, torn down, or otherwise altered beyond recognition, making these images some of the only lasting testaments to their existence. Selected from his personal collection as well as his official archives, the photographs included in this book represent not only lesser-known and never-before-seen material, but also some of Shulman's own personal favorites.
About the Author
---
Sam Lubell is an architectural writer and the West coast editor of the Architect's Newspaper. Judy McKee is Julius Shulman's only child and the executor of his estate.
Praise For…
---
"The photographer's acute gaze captured an eclectic array of images, from the pretty girls at Lucy's lingerie shop (1948) to an early view of Los Angeles City Hall (1935), as well as new factories and their workers, Googie-style restaurants and drive-in movie theaters, supermarkets, streetscapes and schools. His vistas of unspoiled outlying areas — cows in pastures, farm laborers in fields and girls riding horses, sites of the new suburbs-to-come — document a now-vanished past." ~Los Angeles Times

"…the publisher's fourth on the photographer and arguable its best, if only because Shulman did his most memorable work in the city. As a documentarian of modernism, specifically the work of Richard Neutra and Charles Eames, Shulman is unsurpassed, but while many of these pictures are now classics, another side of his work has been mostly overlooked. That would be the street scenes, the night photography, and the portraits that document a place not serene, clean, and beautiful, but bustling and fraught with tension—the city Shulman lived and breathed his entire life." ~Nylon for Guys
 
"These photographic works show Los Angeles as a living organism both vibrant and volatile depending on the neighborhood..." ~Sartorial Life
 
"Now you can see the Central City of the 1930s, '40s and 50s through a pair of the most discerning eyes to ever get behind the lens—Julius Shulman." ~Los Angeles Downtown News

"Julius Shulman: Los Angeles: The Birth of A Modern Metropolis by Sam Lubell and Douglas Woods, presents the late, great photographer's images of his city, many of them never published before." ~Chicago Tribune

"Although we all miss our "Uncle Julius," the publication of this new volume
definitely begs the question: do we really need yet another book? Julius
Shulman Los Angeles answers the question with a resounding YES...To
paraphrase Paul Cézanne's famous comment about Claude Monet:
Shulman was only an eye—but what an eye!" ~Society of Architectural Historians