Fixing Your Feet: Injury Prevention and Treatments for Athletes (Paperback)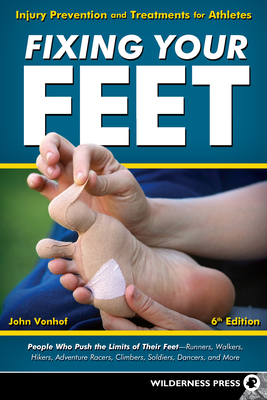 $19.95
Email or call for price.
Description
---
This book covers all that any active person needs to know about foot care, including footwear, prevention, and treatment.
About the Author
---
John Vonhof brings a varied background and extensive experience to "Fixing Your Feet." This sixth edition is the synthesis of 34 years of experience as a runner, hiker, and medical professional, and a never-ending quest to learn more about foot care to help athletes in extreme events. His popular website, fixingyourfeet .com, is dedicated to providing articles, resources, links, and a blog about foot care, and it serves to inform and educate athletes about all that's new in foot care and to provide foot-care advice. Other medical professionals recognize John's expertise too. In 2009 he was the lead author of a chapter on foot injuries in the textbook Expedition and Wilderness Medicine (Cambridge University Press). Over the years John has provided volunteer medical aid at numerous sporting events around the world, patching feet, training medical staff and interested athletes, and providing advice to thousands of athletes. His expertise has taken him to Chile; Costa Rica; Brazil; British Columbia, Canada; and many states to help on medical teams. He continues to be sought out for his expertise and experience in providing answers to foot-care questions, especially for multiday events. A runner since 1982, John discovered trail running and ultras in 1984. He has completed more than 20 ultras: 50Ks, 50-milers, 100-milers, 24-hour runs, and a 72-hour run. He ran the difficult Western States 100-mile Endurance Run three times and the Santa Rosa 24-Hour and 12-Hour Track Runs 12 times. In 1987, with fellow runner Will Uher, John fast-packed the 211-mile John Muir Trail in the Sierra Nevada in 8.5 days, carrying a 30-pound pack. He still runs and rides his road bike. In 1992 John changed careers, becoming a paramedic, orthopedic technician, and emergency room technician. In 2013 he retired from a position as a prehospital care coordinator at an emergency medical services agency in the San Francisco Bay Area.