Jurassic Carp: My Big Fat Zombie Goldfish (Hardcover)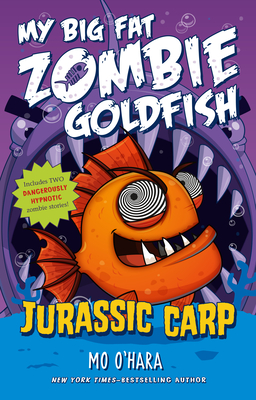 $12.99
Email or call for price.
Description
---
Fish-tory comes to life with two more fin-tastic stories featuring our favorite zombie goldfish Frankie from New York Times-bestselling author Mo O'Hara.

When Tom and his best friend Pradeep rescued Frankie the goldfish from his evil-scientist big brother's toxic gunge their new pet came back as a BIG FAT ZOMBIE GOLDFISH.

Frankie is good at saving the day, but can he become a real knight in shining armor during the medieval day reenactment joust?
Then, can the school survive two BIG FAT ZOMBIE GOLDFISH? Find out when Tom's evil big brother manages to clone a Jurassic Carp!
About the Author
---
Mo O'Hara is the author of the My Big Fat Zombie Goldfish series. She grew up in Pennsylvania and now lives in London, where she works as a writer, actor, and storyteller, visiting theaters and schools all across the UK and Ireland. Mo and her brother once brought their own pet goldfish back from the brink of death (true fact).

Marek Jagucki, the illustrator of the My Big Fat Zombie Goldfish series, is a graduate of Falmouth School of Art and Design. He is a full-time illustrator and graphic designer based in Yorkshire, UK.
Praise For…
---
My Big Fat Zombie Goldfish:

A NEW YORK TIMES bestseller!

"The book is packed with bonkers humour . . . Anyone who likes books by Dav Pilkey would seriously love this book." -Biteso, for TheGuardian.com

"Finding Nemo meets Shaun of the Dead! Boys will be diving in to enjoy Mo O'Hara's two laugh-out-loud stories." -Lancaster Evening Post

The SeaQuel: My Big Fat Zombie Goldfish:

"My Big Fat Zombie Goldfish had everything a boy could want. When your first book is absolutely perfect, children do expect you to carry on the same vein. Thankfully, Mo has pulled it off again with a sequel just as good as the original." -The Bookbag

Fins of Fury: My Big Fat Zombie Goldfish:

"Mo O'Hara writes stories that children can imagine themselves taking part in--and that is a large part of the magic." -The Bookbag

"Mo's a comic genius, and these books are all laugh-out-loud brilliant. I want a zombie goldfish . . . and maybe a vampire kitten too." -Robin Stevens, Goodreads