I Wonder: Celebrating Daddies Doin' Work (Hardcover)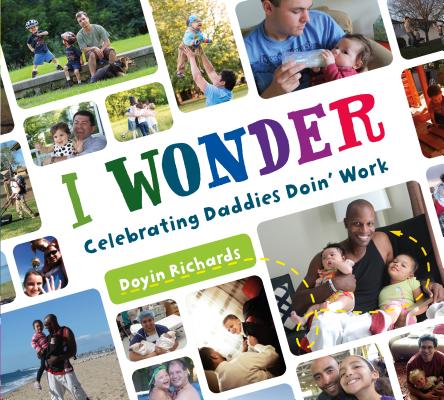 $17.99
Currently not in store. Available to order. Usually Ships in 1-5 Days
Description
---
Perfect for Father's Day or all year round! What do daddies do with their children? They style hair, they carpool, they cuddle (after they look under beds for monsters). They play, they motivate, and they comfort. Dads may sometimes wonder if they're doing a good job. But one thing they're sure of is that they love every moment with their children.
Doyin Richards is a dad whose mission is to celebrate "how fatherhood is the coolest and most rewarding gig a man will ever have in his lifetime." I Wonder is a book for families to share on special occasions, and every day.
About the Author
---
Doyin Richards is a father, husband, writer, consultant, and public speaker inspiring mothers and fathers to think, laugh, and learn while evolving as parents and couples. He is the author of the popular parenting blog Daddy Doin' Work, and the book, Daddy Doin' Work: Empowering Mothers to Evolve Fatherhood, and has appeared on nationally broadcast television shows including the Today show and Good Morning America. He lives in Los Angeles with his wife and their two daughters.
Praise For…
---
"Writing in the voice of a parent expressing his hopes for his child, author and Daddy Doin' Work blogger Richards strikes an affecting balance between insecurity and strength. Photographs—collected from Richards's Instagram followers—show a diverse range of fathers and children spending time together: snowboarding, cooking, swimming, and even providing a patient potty-training audience. "I wonder if you think I'm being too hard on you when I tell you to never give up," reads a typical entry. "I do it because I know you have the toughness within you to do anything." Dads (and kids) of all types should find Richards's message deeply reassuring and relatable."--Publishers Weekly, starred review
"Well-known blogger and speaker Richards turns his attention to the picture-book set with this photo-heavy
title about fathers and their children. Big, full-color photos show dads of all shapes, sizes, and ethnicities
playing with their kids; helping them get dressed or use the potty; and providing a helping hand on the
playground, in the kitchen, or in the pool. Accompanying each photo is a sweet first-person statement,
many of which express questions about fatherhood: "I wonder if you enjoy seeing me work my magic in
the kitchen" or "I wonder if you're scared when I ask you to try new things." T
he emphasis on dads being active, involved parents is refreshing." -- Booklist