This Is America's Day: Inaugural Address by President Joseph R. Biden, Jr. January 20, 2021 (Hardcover)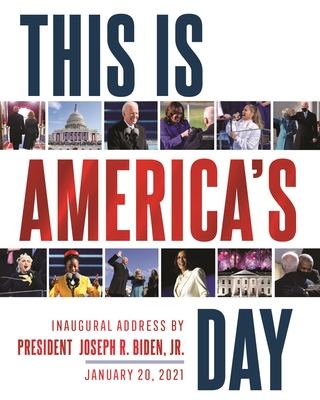 $22.99

On Our Shelves.
Online inventory updates every 24 hours. Call 508.548.5548 to verify.
Description
---
This Is America's Day is President Biden's moving inaugural address brought to life with photographs.

On January 20, 2021, our newly-elected 46th president, Joseph R. Eiden, Jr. gave a stirring tribute to the soul of America. In it, he gave voice to our collective pain, offered us a sense of renewed purpose, and vowed to mend the deep division in our country while serving it with his "whole heart." It was truly a speech for the ages, widely acclaimed by Republicans, Democrats, citizens, and leaders the world over, and this photographic keepsake captures the moment forever.

Inside you'll find the complete transcript of President Biden's speech with colorful images that tell our nation's story of enduring strength and the common values that bind us. This Is America's Day is the inspiring celebration of an historic speech that will be remembered for generations to come.
About the Author
---
Joe Biden is the 46th President of the United States. Before taking office, he represented Delaware for 36 years in the U.S. Senate and from 2009-2017 served as the 47th Vice President of the United States. As Vice President Biden fought to raise the living standards of middle class Americans, reduce gun violence, address violence against women, and end cancer as we know it. He has worked to expand opportunity for all with the creation of the Biden Foundation, the Penn Biden Center for Diplomacy and Global Engagement at the University of Pennsylvania, and the Biden Domestic Policy Institute at the University of Delaware. He is the author of Promises to Keep: On Life and Politics and Promise Me, Dad: A Year of Hope, Hardship, and Purpose.