Dear Haiti, Love Alaine (Hardcover)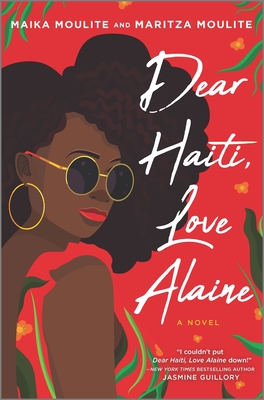 $18.99
Currently not in store. Available to order. Usually Ships in 1-5 Days
Staff Reviews
---
Dear Haiti, Love Alaine follows Alaine Beauparlant, a witty, passionate high school student who makes a mistake – and a big one at that. To avoid being expelled from her school, Alaine agrees to take part in a spring immersion project and heads to Haiti where she stays with her aunt and her mother, who is also living in Haiti after a gaffe of her own airs on public television.
Through a series of emails, blog posts, postcards, diary entries, and school assignments, Alaine learns about her mother, her family's history, and Haitian history during her time spent there. Furthermore, each of these pieces that make up the whole are written by two sisters whose writings come together as though it were one voice. Dear Haiti, Love Alaine is a great fit for readers of realistic fiction, but with discussions of Haitian vodou and a hint of magical realism, this is a book that can – and should – reach readers of all genres.
~ Eight Cousins
— From
Holiday Picks 2019
Description
---
"I couldn't put Dear Haiti, Love Alaine down " --New York Times bestselling author Jasmine Guillory "An enchanting and engrossing novel full of wit and laughter." --Edwidge Danticat, author of Breath, Eyes, Memory "Remarkable, funny, and whip-smart." --Ibi Zoboi, author of American Street, National Book Award finalist "Maika and Maritza Moulite have created quite the masterpiece." --NPR.org "Alaine's sarcastic quips...are worth the price of admission alone." --HYPEBAE "A beautiful story from start to finish." --Buzzfeed Alaine Beauparlant has heard about Haiti all her life... But the stories were always passed down from her dad--and her mom, when she wasn't too busy with her high-profile newscaster gig. But when Alaine's life goes a bit sideways, it's time to finally visit Haiti herself. What she learns about Haiti's proud history as the world's first black republic (with its even prouder people) is one thing, but what she learns about her own family is another. Suddenly, the secrets Alaine's mom has been keeping, including a family curse that has spanned generations, can no longer be avoided. It's a lot to handle, without even mentioning that Alaine is also working for her aunt's nonprofit, which sends underprivileged kids to school and boasts one annoyingly charming intern. But if anyone can do it all...it's Alaine. "Delightful." --Essence magazine "Alaine Beauparlant is YA's new favorite heroine." --Author Nina Moreno for Bustle "Seamlessly blending story lines and allusions to Haiti's history and culture, the authors create an indelible, believable character in Alaine--naive, dynamic, and brutally honest--who stretches and grows as her remarkable, affectingly rendered family relationships do." --Publishers Weekly (starred review) "Sisters Maika and Maritza Moulite deliver a phenomenal coming-of-age story with this stunning novel." --Booklist (starred review) "Enchanting." --Kirkus Reviews Winner of a Parent's Choice Award.