Kent State (Hardcover)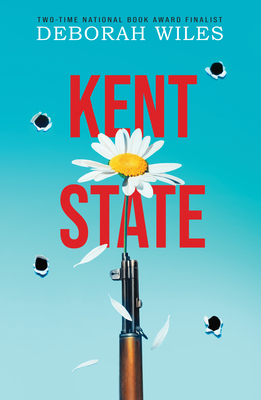 $17.99

Currently not in store. Available to order. Usually Ships in 3-7 Days
Staff Reviews
---
The Vietnam War is known as a protested war; college students voiced their opposition loudly and frequently. Deborah Wiles's Kent State brings one of the most shocking college protests to life for today's generation of students.


The events and ultimate tragedy of the loss of four students at Kent State University is told starkly and powerfully, utilizing a variety of voices and perspectives, to illuminate the deadly events of May 4, 1970. If Kent State is unknown to today's students, after reading this book, it will not be forgotten.
~ Eight Cousins
Holiday Pick 2020
— From
Holiday Picks 2020
Description
---
From two-time National Book Award finalist Deborah Wiles, a masterpiece exploration of one of the darkest moments in our history, when American troops killed four American students protesting the Vietnam War.May 4, 1970.Kent State University.As protestors roil the campus, National Guardsmen are called in. In the chaos of what happens next, shots are fired and four students are killed. To this day, there is still argument of what happened and why.Told in multiple voices from a number of vantage points -- protestor, Guardsman, townie, student -- Deborah Wiles's Kent State gives a moving, terrifying, galvanizing picture of what happened that weekend in Ohio . . . an event that, even 50 years later, still resonates deeply.
About the Author
---
Deborah Wiles is the author of the picture book Freedom Summer and the novels: Love, Ruby Lavender; The Aurora County All-Stars; Each Little Bird That Sings, a National Book Award finalist; and A Long Line of Cakes. She is also the author of the documentary novels Countdown; Revolution, a National Book Award Finalist; and Anthem. She has vivid memories of ducking and covering under her school desk during air-raid drills at the time of the Cuban Missile Crisis. She also sang in the Glee Club, was a champion speller, and hated Field Day. Deborah lives in Atlanta, Georgia. You can visit her on the web at deborahwiles.com.
Praise For…
---
Praise for Kent State:* "The format effectively captures the pain, confusion, and conflicting perspectives of the time while also making direct connections to current acts of gun violence and governmental overreach." -- The Horn Book, starred review* "The tangle of voices is stunningly realized." -- BCCB, starred review* "This hard-hitting historical novel provides valuable perspective on unrest and violence, both timely and timeless." -- Publishers Weekly, starred review* "A well-researched and deeply moving portrait of an iconic moment in U.S. history." -- Kirkus Reviews, starred review* "Brings a visceral energy to the events of the tragedy. In her account, Wiles implicitly challenges her readers to find parallels between then and now and, in so doing, does a service to history. An important book not to be missed." -- Booklist, starred reviewPraise for Countdown (The Sixties Trilogy #1):* "Wiles skillfully keeps many balls in the air, giving readers a story that appeals across the decades as well as offering enticing paths into the history." -- Booklist, starred review* "The larger story . . . told here in an expert coupling of text and design, is how life endures, even triumphs, no matter how perilous the times." -- Horn Book, starred review* "References to duct tape (then newly invented), McDonald's and other pop culture lend authenticity to this phenomenal story of the beginnings of radical change in America." -- Kirkus Reviews, starred review* "Wiles palpably recreates the fear kids felt when air-raid sirens and duck-and-cover drills were routine . . . this story is sure to strike a chord with those living through tough times today." -- Publishers Weekly, starred reviewPraise for Revolution (The Sixties Trilogy #2):* "With elements of family drama and coming of age themes that mirror the larger sociopolitical backdrop, Revolution is a book that lingers long after the last page." -- School Library Journal, starred review* "1960s words and images still sound and resound in this triumphant middle volume of the author's Sixties Trilogy." -- Kirkus Reviews, starred review

Praise for Kent State:* "The format effectively captures the pain, confusion, and conflicting perspectives of the time while also making direct connections to current acts of gun violence and governmental overreach." -- The Horn Book, starred review* "The tangle of voices is stunningly realized." -- BCCB, starred review* "This hard-hitting historical novel provides valuable perspective on unrest and violence, both timely and timeless." -- Publishers Weekly, starred review* "A well-researched and deeply moving portrait of an iconic moment in U.S. history." -- Kirkus Reviews, starred review* "Brings a visceral energy to the events of the tragedy. In her account, Wiles implicitly challenges her readers to find parallels between then and now and, in so doing, does a service to history. An important book not to be missed." -- Booklist, starred reviewPraise for Countdown (The Sixties Trilogy #1):* "Wiles skillfully keeps many balls in the air, giving readers a story that appeals across the decades as well as offering enticing paths into the history." -- Booklist, starred review* "The larger story . . . told here in an expert coupling of text and design, is how life endures, even triumphs, no matter how perilous the times." -- Horn Book, starred review* "References to duct tape (then newly invented), McDonald's and other pop culture lend authenticity to this phenomenal story of the beginnings of radical change in America." -- Kirkus Reviews, starred review* "Wiles palpably recreates the fear kids felt when air-raid sirens and duck-and-cover drills were routine . . . this story is sure to strike a chord with those living through tough times today." -- Publishers Weekly, starred reviewPraise for Revolution (The Sixties Trilogy #2):* "With elements of family drama and coming of age themes that mirror the larger sociopolitical backdrop, Revolution is a book that lingers long after the last page." -- School Library Journal, starred review* "1960s words and images still sound and resound in this triumphant middle volume of the author's Sixties Trilogy." -- Kirkus Reviews, starred review