Holidays Around the World: Celebrate Passover: With Matzah, Maror, and Memories (Paperback)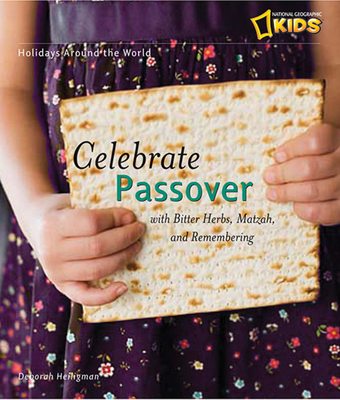 Call for price: 508-548-5548
It is unlikely that we will be able to order this item. Please call 508.548.5548.
Description
---
The most celebrated holiday in the Jewish year, Passover commemorates the Exodus of Hebrew slaves from Egypt to freedom over 3,500 years ago. This colorful book explores the many forms that this weeklong celebration takes worldwide. Deborah Heiligman's rich text details the long, lavish meals called seders, at which the Exodus is recalled in ritual, prayer, song, and story. With historical significance of traditional Passover feasts, delicious recipes encourage readers to experience the full flavor of this internationally observed holiday.

National Geographic supports K-12 educators with ELA Common Core Resources.
Visit www.natgeoed.org/commoncore for more information.
About the Author
---
The award-winning author of 15 books for children, Deborah Heiligman has written three books for National Geographic: Honey Bees; Babies: All You Need To Know; and High Hopes: A Photobiography of John F. Kennedy. Her best-known and best-selling book outside NGS is From Caterpillar to Butterfly (HarperCollins, 1996).
Deborah specializes in writing about complex subjects for young people, particularly in the areas of science and social studies. She is equally at home writing for early readers and middle grade students. Her experience as a religious studies major at Brown University has been put to good use in working on this series. Deborah lives in New York City with her husband, author Jonathan Weiner, her sons Aaron and Benjamin, and cat, Peanut Butter.