Tell Me Something Real (Paperback)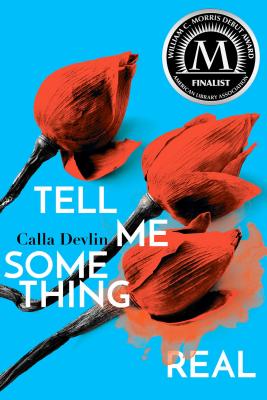 Call for price: 508.548.5548
It is unlikely that we will be able to order this item. Please call 508.548.5548.
Description
---
Three sisters struggle with the bonds that hold their family together as they face a darkness settling over their lives in this "one of a kind" (Kirkus Reviews, starred review) debut novel that's a finalist for the William C. Morris Award.

There are three beautiful blond Babcock sisters: gorgeous and foul-mouthed Adrienne, observant and shy Vanessa, and the youngest and best-loved, Marie. Their mother is ill with leukemia and the girls spend a lot of time with her at a Mexican clinic across the border from their San Diego home so she can receive alternative treatments.

Vanessa is the middle child, a talented pianist who is trying to hold her family together despite the painful loss that they all know is inevitable. As she and her sisters navigate first loves and college dreams, they are completely unaware that an illness far more insidious than cancer poisons their home. Their world is about to shatter under the weight of an incomprehensible betrayal…
About the Author
---
Calla Devlin is the author of William C. Morris Award finalist Tell Me Something Real. She's also a Pushcart nominee and winner of the Best of Blood and Thunder Award whose stories have been included in numerous literary journals and in anthologies, including Because I Love Her: 34 Women Writers Reflect on the Mother-Daughter Bond, for which she was featured in the San Francisco Chronicle and San Francisco Magazine. Visit her at CallaDevlin.com.
Praise For…
---
"A gorgeously written novel that doesn't shy away from recognizing the hard limits of love."
— Tommy Wallach, New York Times bestselling author of We All Looked Up

* "It's rare to find such a large group of characters who are so well-developed as to be almost real, and the prose is eloquent and precise, every word chosen with care. . . this debut is hands-down one of a kind."
— Kirkus Reviews, starred review

"An intriguing tale of illness, love, loss, and betrayal that is sure to reel in teens looking for something with a little bit of darkness hidden in the pages"
— School Library Journal

"The novel's lyric prose and earnest treatment of grief, sacrifice, and recovery are sure to keep the pages turning."
— Booklist Online

"It's transporting reading, with a powerfully evoked 1970s setting, and readers will eagerly sink into Devlin's richly detailed writing, accompanying Vanessa on a journey marked by moments of deep connection and equally profound pain."
— Publishers Weekly

"Fully realized characters and lovely sentence-level writing make this an engaging debut novel."
— The Horn Book