Game Changers: The Story of Venus and Serena Williams (Hardcover)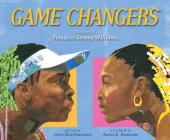 $17.99
Currently not in store. Available to order. Usually Ships in 1-5 Days
Description
---
An ALA Notable Book

"This lovingly crafted picture book biography centers on the incredible bond between Venus and Serena Williams…An important selection for biography and sports collections." —School Library Journal (starred review)

"Will appeal to children and sports fans of all ages." —Booklist (starred review)

"Wife-and-husband team Cline-Ransome and Ransome celebrate tennis superstars Venus and Serena Williams, focusing on their formative childhoods and the way their preparation and talent fundamentally changed the game." —The Horn Book (starred review)

"Every page is splashed with vibrant color and eye-catching patterns, and the figures of the women themselves are full of energy, speed, and tension." —Shelf Awareness (starred review)

"A beautifully composed biography of the Williams sisters, Serena and Venus…This is one biography that will struggle to stay on the shelf." —School Library Connection

Venus and Serena Williams are two of the greatest tennis players of all time. Some say they're two of the greatest athletes of all time. Before they were world famous, they were little girls with big dreams.

Venus and Serena Williams. Two peas in a pod. Best friends. Sisters.

Six days a week they awoke before the sun came up to practice their serves and returns, to learn to run faster and hit harder. They were unstoppable. At age fourteen, Venus played her first professional match. Three years later, it was Serena's turn. It wasn't easy. Some tennis fans cheered for these two fresh faces, while those who were unhappy to see two black girls competing in a nearly all-white sport booed and taunted them. But they didn't let it stop them.

With vibrant mixed media art, nonfiction superstars Lesa Cline-Ransome and Coretta Scott King Honor winner James E. Ransome share the inspirational story of two tennis legends who were fierce competitors on the courts, but close sisters above all.
About the Author
---
Lesa Cline-Ransome is the author of many books for children, including My Story, My Dance: Robert Battle & Journey to Alvin Ailey, which was an ALA Notable Book, an IRA Notable Book for a Global Society, and an NCTE Orbis Pictus Recommended title for Outstanding Nonfiction for Children; Satchel Paige, an ALA Notable Book and a Top 10 Sports Book for Youth; and Words Set Me Free: The Story of Young Frederick Douglass, which The New York Times Book Review called, "visceral, intimate, and plainly told, this story is sure to move young children, and also motivate them to read more." Her books were all illustrated by her husband, James E. Ransome. A graduate of the Pratt Institute, she holds a master's degree in early childhood and elementary education from NYU. She lives with her family in upstate New York. Visit her at LesaClineRansome.com.

James E. Ransome's highly acclaimed illustrations for Before She Was Harriett received the 2018 Coretta Scott King Illustrator Honor. His other award-winning titles include Coretta Scott King Honor Book Uncle Jed's Barbershop; Sweet Clara and the Freedom Quilt; and Let My People Go, winner of the NAACP Image Award. He frequently collaborates with his wife, author Lesa Cline-Ransome. Some of their titles include Game Changers: The Story of Venus Serena Williams, which received four starred reviews; My Story, My Dance: Robert Battle's Journey to Alvin Ailey; and Words Set Me Free: The Story of Young Frederick Douglass. Mr. Ransome teaches illustration at Pratt Institute and lives in upstate New York with his family. Visit James at JamesRansome.com.
Praise For…
---
The lively narrative . . . focuses on [Venus and Serena Williams's] determination to succeed and their close relationship. Ransome uses cut paper, pencil, and acrylic paints for pictures that are varied and energetic.
— Kirkus Reviews

The story of record-breaking tennis greats Venus and Serena Williams has some- thing for everyone: they're sports superstars, civil rights champions, and fiercely loyal and hypercompetitive sisters. . . . [T]his account celebrates their amazing, uplifting career journey and hard-won success.
— BCCB

The acclaimed Ransome husband–and–wife duo move from the historical to the present-day with this story of African American sisters Venus and Serena Williams, who changed the game of tennis with their prowess and determination. . . . Clear writing, aninviting layout, collage-style pictures, and quotes from the sisters and their parents make this nonfiction format accessible for emerging and more confident readers. Cut paper, pencil, and acrylic paints blend seamlessly to create beautiful bold, colorful illustrations in tribute to two amazing athletes. . . . Will appeal to children and sports fans of all ages.
— Booklist *STARRED REVIEW*

This lovingly crafted picture book biography centers on the incredible bond between Venus and Serena Williams and one of their signature accomplishments: being the first two sisters in tennis history to rank numbers one and two in the world. . . . Fans of tennis will be in for a treat as Cline-Ransome recounts the Williams's matches with thrilling detail. . . . An important selection for biography and sports collections.
— School Library Journal *STARRED REVIEW*

Wife-and-husband team Cline-Ransome and Ransome celebrate tennis superstars Venus and Serena Williams, focusing on their formative childhoods and the way their preparation and talent fundamentally changed the game. Cline-Ransome's chronological account begins with the sisters' pre-dawn practices in Compton, California, sweeping the public courts of garbage and broken glass before applying themselves with phenomenal dedication ("By the time Venus was four she could hit five hundred tennis balls at every practice"; "When gunshots rang out in the distance, [their father] Richard reminded them, 'Never mind the noise. Just play'"). As they grow and improve, moving from their family's private coaching to the professional tour, they become the dominant force in women's tennis and find themselves playing against each other with increasing frequency. Ransome's detailed collages reflect this shift. Early illustrations show the girls close together, dressed in like colors with similar hairstyles. As the story progresses, the sisters are positioned apart, wearing different colors, until as young women they find themselves on opposite sides of the net, their separation emphasized by the book's low, wide trim size. The final spread, showing them on the same side of the net, holding hands, after Serena bested Venus in the 2002 French Open, communicates the sisters' ultimate devotion to each other. Thorough back matter—including an afterword, source notes, a selected bibliography, and further reading—is appended.
— Horn Book Magazine, STARRED REVIEW

Husband-and-wife team James E. and Lesa Cline-Ransome (Before She Was Harriet) offer a powerful portrayal of the sisters and tennis legends. Growing up in Los Angeles, Venus and Serena played tennis in the courts of East Compton Park, where neighborhood gunshots sometimes interrupted their practice. The book follows their move onto professional courts, where they drew attention for their raw talent and expressive styles, as well as their unfortunate treatment by some watchers, who "threatened, booed, and taunted" the sisters for their skin tone. Cline-Ransome conveys the sisters' affection and competitiveness, emphasizing how Serena remained one step behind Venus until the 2002 French Open, when "a victorious Serena stepped out of the shadow of her sister." Yet the sisters are pictured standing side-by-side for Serena's win: " 'Nothing can keep me from celebrating when my best friend wins a match,' Venus said proudly." Ransome's sophisticated portraiture captures a likeness of the two athletes, while spreads feature playfully stylized cut-paper collage accents—visuals that enhance this tribute to sisterhood, athletics, and determination.
— Publishers Weekly

Award-winning author/illustrator team Lesa Cline-Ransome and James E. Ransome's newest nonfiction picture book pays tribute to two of the world's most impressive athletes: tennis stars and sisters Venus and Serena Williams. . . . The illustrations glory in the sisters' brown skin and colorful clothing, making them prominent "in a sea of white tennis attire, white fans, and white opponents." Every page is splashed with vibrant color and eye-catching patterns, and the figures of the women themselves are full of energy, speed and tension. An afterword, selected bibliography and source notes round out this incredible tennis life story of "two of the most popular athletes in history."
— Shelf Awareness for Readers **STARRED REVIEW