Shark Lady: The True Story of How Eugenie Clark Became the Ocean's Most Fearless Scientist (Hardcover)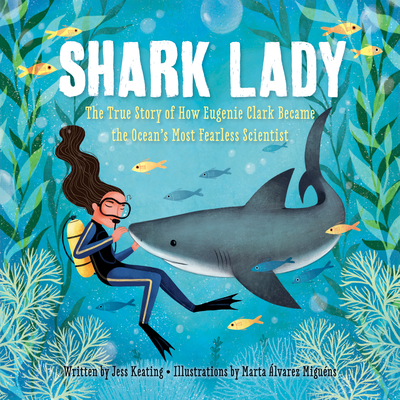 $17.99
On Our Shelves. Online inventory updates every 24 hours. Call 508.548.5548 to verify.
Staff Reviews
---
When Eugenie Clark developed an interest in sharks as a young girl, some people told her that women couldn't be scientists, and that sharks were only killing machines. Despite such opinions, Eugenie dedicated her life to studying sharks, earning the nickname "The Shark Lady." Her passion and research helped to show both that sharks are intelligent creatures, and that women are capable of anything. Inspiring and educational, Shark Lady offers encouragement to anyone who has ever felt or been told that their dreams are unreachable.
~ Eight Cousins, Holiday Picks 2017
— From
Holiday Picks 2017
Description
---
One of New York Times' Twelve Books for Feminist Boys and Girls
This is the story of a woman who dared to dive, defy, discover, and inspire. This is the story of Shark Lady. One of the best science picture books for children, Shark Lady is a must for both teachers and parents alike
An Amazon Best Book of the Month
Named a Best Children's Book of 2017 by Parents magazine
Eugenie Clark fell in love with sharks from the first moment she saw them at the aquarium. She couldn't imagine anything more exciting than studying these graceful creatures. But Eugenie quickly discovered that many people believed sharks to be ugly and scary--and they didn't think women should be scientists.
Determined to prove them wrong, Eugenie devoted her life to learning about sharks. After earning several college degrees and making countless discoveries, Eugenie wrote herself into the history of science, earning the nickname "Shark Lady." Through her accomplishments, she taught the world that sharks were to be admired rather than feared and that women can do anything they set their minds to.
An inspiring story by critically acclaimed zoologist Jess Keating about finding the strength to discover truths that others aren't daring enough to see. Includes a timeline of Eugenie's life and many fin-tastic shark facts
The perfect choice for parents looking for:
Books about sharksInspiring nonfiction narrative booksRole model books for girls and boysKids STEM books