The History of Bees: A Novel (Hardcover)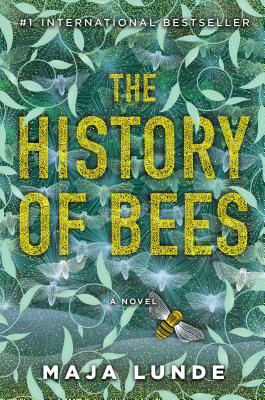 $26.00
Email or call for price.
September 2017 Indie Next List
---
"Both heartbreaking and hopeful, The History of Bees by Maja Lunde looks from present day to the history and future of bees, pollination, and the effects of humankind on these vital insects. Told through the stories of three families of beekeepers and pollinators, Lunde beautifully weaves together separate stories into one epic novel that will hold the reader captive until the very last sentence."
— Mary O'Malley, Anderson's Bookshop, Naperville, IL
Description
---
"Imagine The Leftovers, but with honey" (Elle), and in the spirit of Station Eleven and Never Let Me Go, this "spectacular and deeply moving" (Lisa See, New York Times bestselling author) novel follows three generations of beekeepers from the past, present, and future, weaving a spellbinding story of their relationship to the bees—and to their children and one another—against the backdrop of an urgent, global crisis.

England, 1852. William is a biologist and seed merchant, who sets out to build a new type of beehive—one that will give both him and his children honor and fame.

United States, 2007. George is a beekeeper fighting an uphill battle against modern farming, but hopes that his son can be their salvation.

China, 2098. Tao hand paints pollen onto the fruit trees now that the bees have long since disappeared. When Tao's young son is taken away by the authorities after a tragic accident, she sets out on a grueling journey to find out what happened to him.

Haunting, illuminating, and deftly written, The History of Bees joins "the past, the present, and a terrifying future in a riveting story as complex as a honeycomb" (New York Times bestselling author Bryn Greenwood) that is just as much about the powerful bond between children and parents as it is about our very relationship to nature and humanity.
About the Author
---
Maja Lunde is a Norwegian author and screenwriter. Lunde has written ten books for children and young adults. She has also written scripts for Norwegian television, including for the children's series Barnas supershow ("The Children's Super Show"), the drama series Hjem ("Home") and the comedy series Side om Side ("Side by Side"). She lives with her husband and three children in Oslo.
Praise For…
---
"The History of Bees is spectacular and deeply moving. Lunde has elegantly woven together a tale of science and science fiction, dystopia and hope, and the trials of the individual and the strengths of family."
— Lisa See, New York Times bestselling author of THE TEA GIRL OF HUMMINGBIRD LANE and SNOW FLOWER AND THE SECRET FAN

"When you think of coming to tears over a novel, a story about bee keepers and honey is not your first thought. But such is the genius of debut novelist Maja Lunde that her tale of three eras—the long past, the tenuous present and the biologically damned future—is strung on the fragile hope of the survival of bees. Without ever banging an apocalyptic drum, Lunde paints an achingly pure picture of what happens if we fail to protect the bees, our biospheric conscience, our fragile, sacred spinners of gold."
— Jacquelyn Mitchard, New York Times bestselling author of THE DEEP END OF THE OCEAN and TWO IF BY SEA

"As a lover of honeybees and a fan of speculative fiction, I was doubly smitten by The History of Bees. Maja Lunde's novel is an urgent reminder of how much our survival depends on those remarkable insects. It is also a gripping account of how—despite the cruelest losses—humanity may abide and individual families can heal."
— Jean Hegland, author of STILL TIME and INTO THE FOREST

"By turns devastating and hopeful, The History of Bees resonates powerfully with our most pressing environmental concerns. Following three separate but interconnected timelines, Lunde shows us the past, the present, and a terrifying future in a riveting story as complex as a honeycomb."
— Bryn Greenwood, New York Times bestselling author of ALL THE UGLY AND WONDERFUL THINGS

"I once sat sheltered while a swarm of bees the size of a house flew over me. I wish readers this same cone of isolated, humming space when they read Maja Lunde's fine novel The History of Bees. Here is a story that is sweeping in scope but intimate in detail. Stepping lightly between a 19th century British naturalist, a contemporary Ohio bee farmer, and a determined mother in a dystopian future China, Lunde dares to imagine the chaos our rapidly changing world invites, while finding order and hope in individual acts of care."
— Laura McBride, author of 'ROUND MIDNIGHT and WE ARE CALLED TO RISE

"Imagine The Leftovers, but with honey."
— Elle

"Lunde, a Norwegian author and screenwriter, threads a common string through these characters. The novel becomes far less about bees than about family — about how the relationship between parent and child can be passionate, desperate, tragic and uplifting….The History of Bees is a dark read, and yet it ends on a wavering note of optimism. It's been likened to Emily St. John Mandel's 2014 sci-fi novel Station Eleven, with good reason."
— Minneapolis Star-Tribune

"This book is about bees the same way Moby-Dick is a book about whales or The Moviegoer is about movies…..[The History of Bees] is reminiscent of the 1998 art film The Red Violin, in that it weaves together three fairly disparate stories spread across the better part of two and a half centuries. At the outset, the connections between the three are opaque, but Lunde's compelling narrative draws the reader in. Much as in Ray Bradbury's famed story "A Sound of Thunder," the "butterfly effect" is in full effect, as decisions made long ago and far away influence outcomes in unpredictable but realistic ways."
— BookPage

"The History of Bees brings climate change into the realm of book-club fiction. . . . Lunde's exploration of the tension between human instinct and the need for selflessness couldn't be more timely."
— Los Angeles Times

"Is climate-themed fiction all too real? As scientists' projections about the effects of climate change have increasingly become reality, some works of apocalyptic fiction have begun to seem all too plausible. Maja Lunde's first book chronicles three generations as they exploit, try to save and eventually mimic bees."
— The New York Times