Windows to the Womb: Revealing the Conscious Baby from Conception to Birth (Paperback)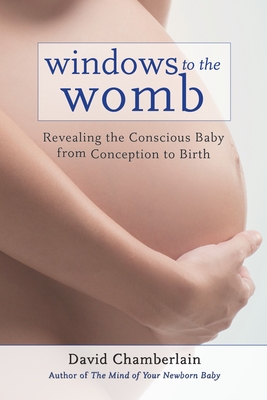 $19.95
Currently not in store. Available to order. Usually Ships in 3-7 Days
Description
---
A pioneering birth psychologist combines a lifetime's worth of research with new findings to provide a fascinating look inside the minds of unborn children
 
In the past, the invisible physical processes of fetal development were mysterious and largely unexplainable. But thanks to breakthroughs in embryology, interuterine photography, ultrasound, and other sensitive instruments of measurement, we can now make systematic observations inside the womb—and can see that fetuses are fully sentient, aware beings. In this new climate of appreciation for the surprising dimensions of fetal behavior, sensitivity, and intelligence, Windows to the Womb brings a host of new information to light about the transformative journey each one of us undergoes in the womb.

Birth psychologist Dr. David Chamberlain describes the amazing construction of our physical bodies—the "ultimate architecture"—and draws parallels with the expansion of our minds as our brains and senses develop and grow. He also details new discoveries in embryonic and fetal research that support his own findings on the impact of the mother's emotional and physical state during pregnancy; the importance of bonding at the earliest stages; and the steps that expectant parents can take to ensure the most nurturing start in life for their children.
About the Author
---
David Chamberlain, PhD, is a California psychologist, scholar, author, and international lecturer with over 60 publications and 27 years of leadership in the Association for Prenatal and Perinatal Psychology and Health (APPPAH). In a landmark study of mother and child pairs in 1980, he demonstrated that birth memories were reliable and not fantasies. In 2003, Mothering magazine celebrated David as a "Living Treasure." He was a founding faculty member of Santa Barbara Graduate Institute; in 2006 the institute conferred upon him an honorary Doctor of Humane Letters degree. In 2007, he was honored at the Gentle Birth World Conference with the Mother Goose Award for his work with mothers and babies. The author lives in Nevada City, CA.
Praise For…
---
"Parents, doctors, and midwives should be heeding these reports of birth. This book gives an understanding of babies that is essential for adults. —Arthur Hastings, former president of the California Institute of Transpersonal Psychology, Palo Alto, Calif.

"Splendid, delightfully written, and thorough." —Asley Montagu, anthropologist and author of Touching: The Human Significance of the Skin

Praise for David Chamberlain's previous book The Mind of Your Newborn Baby
"An impressive book which challenges the assumptions we make about babies and impels the reader to look at the newborn child with fresh eyes." —Sheila Kitzinger, author of The Complete Book of Pregnancy and Childbirth

"Alongside of Spock and Brazelton on your parenting bookshelf, make room for a book that sets out to prove babies ... should be recognized for the bright, information-gathering beings they are." —San Francisco Peninsula Parent
 
"If babies ever stage a protest march, David Chamberlain will be on the front lines." —Sarah Patee, San Diego Tribune

"Put a ribbon around this book for every pregnant woman you know...."—Audrey DeLaMartre, Minneapolis Star Tribune