Like No Other (Paperback)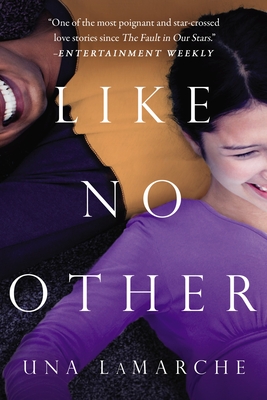 $10.99
Backordered. Please call 508.548.5548 for more information.
Staff Reviews
---
Eight Cousins Pick of the Year 2014
Devorah
and Jaxson live on opposite sides of the street in Brooklyn, in two
neighborhoods that do not overlap. Their worlds collide when they are
stuck in a hospital elevator during a hurricane. Jaxson is smart, funny,
awkward, and doesn't really know how to talk to girls. Devorah is
smart, funny, devoutly religious, and, due to her beliefs and community,
absolutely forbidden to talk to boys. Their chance meeting sparks more
meetings, at first almost accidental, eventually intentional, but always
absolutely secret. This Romeo-and-Juliet story delves respectfully into
two very different cultures and two contiguous communities that do not
understand each other. Nevertheless, Like No Other isn't a tragedy, and
it isn't a love-conquers-all story. It's more a story about how stepping
outside of our comfort zones can teach us about ourselves and that the
most unexpected people can have a profound influence on who we become.
Description
---
Fitting seamlessly alongside current bestsellers like Rainbow Rowell's Eleanor & Park, and John Green's Paper Towns, LIKE NO OTHER provides a thoroughly modern take on romance that will inspire laughter, tears, and the belief that love can happen when you least expect it. 

"Electrifying…surprisingly seductive. LaMarche expertly conjures up what high-stakes infatuation feels like." —The New York Times Book Review
 
"[A] refreshing tale of forbidden love."—People Magazine

"One of the most poignant and star-crossed love stories since The Fault in Our Stars." —Entertainment Weekly

Fate brought them together. Will life tear them apart? Devorah is a consummate good girl who has never challenged the ways of her strict Hasidic upbringing. Jaxon is a fun-loving, book-smart nerd who has never been comfortable around girls (unless you count his four younger sisters). They've spent their entire lives in Brooklyn, on opposite sides of the same street. Their paths never crossed...until one day, they did. 

When a hurricane strikes the Northeast, the pair becomes stranded in an elevator together, where fate leaves them no choice but to make an otherwise risky connection. Though their relationship is strictly forbidden, Devorah and Jaxon arrange secret meetings and risk everything to be together. But how far can they go? Just how much are they willing to give up? 
About the Author
---
Una LaMarche is a writer and journalist whose work appears regularly in the New York Observer and on the Huffington Post. She is the author of Five Summers, a young adult novel, and Unabrow, a collection of humorous essays based on some of her more questionable life choices. Una lives in Brooklyn with her husband and son. Find out more at unalamarche.com or follow her on Twitter @sassycurmudgeon
Praise For…
---
Praise for Like No Other:

"One of the most poignant and star-crossed love stories since The Fault in Our Stars." —Entertainment Weekly
 
"Electrifying…surprisingly seductive. LaMarche expertly conjures up what high-stakes infatuation feels like."—The New York Times Book Review
 
"[A] refreshing tale of forbidden love."—People Magazine

"Readers will fall for these two love-struck teenagers as easily as they fall for each other." —Publishers Weekly, Starred Review

"Una LaMarche tells a truly complex urban story worth telling: An Orthodox Jewish girl and West Indian dork fall in love in Crown Heights, Brooklyn, and beat the odds of conservative values trying to keep them apart." —Vogue.com

"You root for Devorah and Jaxon because you remember you were once like them. From our first love or our first rebellion, they are a way for us to relive those strange and exciting days."—The Boston Herald

"...romantic and wonderful and heartbreaking..."—Slate.com

"Like No Other is a moving, coming-of-age story that will have even adults remembering the burning intensity and insecurities of their first love."—VOYA
 
"Devorah and Jaxon's time together is forbidden and precious, making each moment simultaneously infinite and too short. Fans of Rainbow Rowell's Eleanor & Park…will enjoy this story of surprising love."—School Library Journal

"Devorah's narration is eye-opening, especially for young women who have always taken the rules, spoken and unspoken, of their communities for granted."—BCCB
 
"Like No Other is a bold and passionate portrayal of the bond that can bridge any gap or surmount any barrier, that universal fire that flickers beneath each of our distinct and sometimes misunderstood identities. The relationship between Devorah and Jaxon is emblematic of the warmth and curiosity that exists in its most pure form in the hearts of young people, a compassion that if nurtured and embraced has the power to transcend the ubiquitous pressure of externally wrought perspectives."—Deborah Feldman, author of Exodus and the New York Timesbestseller, Unorthodox

"A perfect depiction of love and loss."—Huntley Fitzpatrick, author of My Life Next Door and What I Thought Was True