An Ember in the Ashes (Hardcover)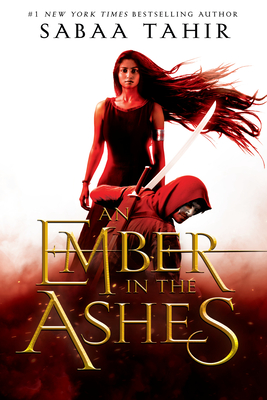 $19.95
Currently not in store. Available to order. Usually Ships in 1-5 Days
Staff Reviews
---
A high fantasy like you've never read before, An Ember in the Ashes is told from alternating perspectives by Laia, a slave, and Elias, a soldier. Laia is part of the scholar class, already an oppressed class on the edge of survival. Because of her brother's treason against the Empire's ruling class, Laia has been sold into slavery to the head of the military academy. Elias is graduating from the same academy, a brutal and unforgiving school that trains brutal and unforgiving soldiers. His attempt to escape his destiny are unsuccessful, but his fate becomes intertwined with Laia's and they work together from within the academy to take down the military and the Empire's ruling class.
— From
Holiday Picks 2015
Description
---
BOOK ONE IN THE NEW YORK TIMES BESTSELLING SERIES

Instant New York Times bestseller
From #1 New York Times bestselling author Sabaa Tahir
Amazon's Best Young Adult Book of 2015
People's Choice Award winner - Favorite Fantasy
Bustle's Best Young Adult Book of 2015

"This novel is a harrowing, haunting reminder of what it means to be human — and how hope might be kindled in the midst of oppression and fear." — The Washington Post

"An Ember in the Ashes could launch Sabaa Tahir into JK Rowling territory…It has the addictive quality of The Hunger Games combined with the fantasy of Harry Potter and the brutality of Game of Thrones."—Public Radio International

"An Ember in the Ashes glows, burns, and smolders—as beautiful and radiant as it is searing."—Huffington Post 
 
"A worthy novel – and one as brave as its characters." —The New York Times Book Review
 

Laia is a slave. Elias is a soldier. Neither is free.
 
Under the Martial Empire, defiance is met with death. Those who do not vow their blood and bodies to the Emperor risk the execution of their loved ones and the destruction of all they hold dear.
 
It is in this brutal world, inspired by ancient Rome, that Laia lives with her grandparents and older brother. The family ekes out an existence in the Empire's impoverished backstreets. They do not challenge the Empire. They've seen what happens to those who do.
 
But when Laia's brother is arrested for treason, Laia is forced to make a decision. In exchange for help from rebels who promise to rescue her brother, she will risk her life to spy for them from within the Empire's greatest military academy.
 
There, Laia meets Elias, the school's finest soldier—and secretly, its most unwilling. Elias wants only to be free of the tyranny he's being trained to enforce. He and Laia will soon realize that their destinies are intertwined—and that their choices will change the fate of the Empire itself. 
About the Author
---
Sabaa Tahir grew up in California's Mojave Desert at her family's eighteen-room motel. There, she spent her time devouring fantasy novels, raiding her brother's comic book stash, and playing guitar badly. She began writing An Ember in the Ashes while working nights as a newspaper editor. She likes thunderous indie rock, garish socks, and all things nerd. Sabaa currently lives in the San Francisco Bay Area with her family. 

For more information, please visit Sabaa at SabaaTahir.com or on Twitter @SabaaTahir.
Praise For…
---
Named one of the best books of the year by:
Amazon
Barnes & Noble
The Wall Street Journal
Buzzfeed
LA Weekly
Bustle
Paste Magazine
Indigo
Suspense Magazine
The New York Public Library
Popsugar
Hypable

***

"This novel is a harrowing, haunting reminder of what it means to be human—and how hope might be kindled in the midst of oppression and fear." —The Washington Post

"[An Ember in the Ashes] thrusts its readers into a world marred by violence and oppression, yet does so with simple prose that can offer moments of loveliness in its clarity. This complexity makes Ember a worthy novel—and one as brave as its characters." —The New York Times Book Review

"Sabaa Tahir spins a captivating, heart-pounding fantasy." —Us Weekly

"An Ember in the Ashes mixes The Hunger Games with Game of Thrones...and adds a dash of Romeo and Juliet." —The Hollywood Reporter

"Blew me away...This book is dark, complex, vivid, and romantic—expect to be completely transported." —MTV.com

"Fast-paced, well-structured and full of twists and turns, An Ember in the Ashes is an evocative debut that has left me invested in knowing what happens next." —NPR
 
"Once you get caught up in the story, it's addictive, and there's no way you can put it down before you figure out what happens to the characters you have fallen for over the course of the 400 some-odd pages. So I didn't." —Bustle 
 
"One thing I can say for sure: this is a page-turner. There comes a moment when it's impossible to put it down. Sabaa Tahir is a strong writer, but most of all, she's a great storyteller." —The Huffington Post

"This epic fantasy set in the Martial Empire has it all: danger and violence, secrets and lies, strong characters and forbidden romance and a touch of the supernatural." —The Atlanta Journal-Constitution 

"A setting inspired by ancient Rome; a fierce battle for freedom in the face of tyranny; and a villain who makes Cersei Lannister and Dolores Umbridge look like a pair of pathetic amateurs...An Ember in the Ashes is at the top of our must-read list for 2015." —MTV.com

"Be prepared to be blown away by this fantasy-thriller-adventure." —Girls' Life

"An Ember in the Ashes is a book that's too good to put down." —RedEye
 
"Perfect for fans of Maggie Stiefvater's The Scorpio Races or Sarah Maas's Throne of Glass series…The book is already set to be a film, which will be EPIC!" —TeenVogue.com

* "Tahir's deft, polished debut alternates between two very different perspectives on the same brutal world, deepening both in the contrast. In a tale brimming with political intrigue and haunted by supernatural forces, the true tension comes from watching Elias and Laia struggle to decide where their loyalties lie." —Publishers Weekly, starred review
 
"Tahir's world-building is wonderfully detailed and the setting is an unusual one for fantasy novels. All of her characters, even minor ones, are fully realized....For fans of Game of Thrones and of Melina Marchetta's Finnikin of the Rock." —School Library Journal
 
"An original, well-constructed fantasy world...truly engaging." —Kirkus Reviews 
 
"An epic fantasy debut about an orphan fighting for her family and a soldier fighting for his freedom. It's a story that's literally burning to be told." —Hypable.com

"First-time novelist Tahir has written an ambitious sword-and-sand adventure story that is notable for its suspense and scope." —Booklist 
 
"Here's one of the year's most anticipated young-adult debuts." —io9.com

"I was so engrossed with this book that I missed a connecting flight. If that doesn't convince you to read An Ember in the Ashes, I don't know what will. An explosive, heartbreaking, epic debut that will keep you glued to the pages. I hope the world's ready for Sabaa Tahir." —Marie Lu, New York Times bestselling author of Legend
 
"With An Ember in the Ashes, Sabaa Tahir shows us light in the darkness, hope in a world of despair, and the human spirit reaching for greatness in difficult times." —#1 New York Times bestselling author Brandon Sanderson
 
"An Ember in the Ashes is a spectacular page turner that asks readers to consider how far they'd go to save the ones they love. Sabaa Tahir is the next superstar in young adult fiction and her debut is as cinematic as Gladiator and as high-stakes as Game of Thrones."—Holly Goldberg Sloan, New York Times bestselling author of Counting by 7s
 
"A heart-pounding story of love and loss, with the most original world-building I've read all year. Deeply felt and deeply moving, I could not put it down." —Margaret Stohl, New York Times bestselling co-author of Beautiful Creatures
 
"This electric debut is a pulse-pounding action-packed Romeo and Juliet story in a richly imagined world with a great twist and heroic characters you'll root for and won't stop thinking about." —Melissa de la Cruz, New York Times bestselling author of Frozen and The Ring and the Crown