When Love Comes to Light: Bringing Wisdom from the Bhagavad Gita into Modern Life (Paperback)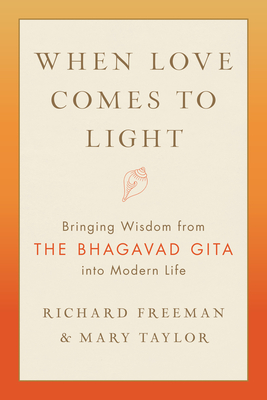 $19.95

Backordered. Please call 508.548.5548 for more information.
Description
---
Eminent yoga teachers Richard Freeman and Mary Taylor explore essential lessons from The Bhagavad Gita to reveal a practical guide for living in today's complex world.

The Bhagavad Gita is one of the most influential and widely recognized ancient texts in Indian epic literature. Through the telling of the story and its many different philosophical teachings, the text provides deep insight into how to meet life's inevitable challenges while remaining open, clear, and compassionate. It offers modern day wisdom seekers a framework for understanding our core beliefs and who we really are--revealing the fact that healthy relationships to others and the world are essential to living a full, compassionate, balanced life. Richard Freeman and Mary Taylor, both deeply respected yogic teachers, offer a practical, immediately relevant interpretation that emphasizes self-reflection and waking up in our modern world.

Following the traditional sequence of teachings in The Bhagavad Gita--from its opening scene in which Arjuna finds himself in the middle of a battlefield, hesitating and trapped between opposing sides, torn by his dharma and confused by the various paths of action he might choose in the process of awakening--Freeman and Taylor interweave insight into how these classic teachings are relevant for modern readers struggling with what it means to live responsibly in the twenty-first century. With quotes, citations, and a full translation of the original text, they look at the overall arc of the The Bhagavad Gita's teachings and how that relates to the turmoil that arises, not only for Arjuna, but for any of us in the face of crises of conscience, spirit, and form. Exploring the essential themes such as love, wisdom, and karma, and by offering embodiment exercises to apply the teachings, When Love Comes to Light guides readers in the step-by-step process of waking up their intelligence and finding a path toward compassionate action.
About the Author
---
RICHARD FREEMAN began studying yoga in 1968 focusing on the interrelated patterns and forms of traditional hatha yoga, contemplative Buddhism and the many approaches to yoga inclusive of the Ashtanga and Iyengar methods. Holding an MA in philosophy, he is fascinated by the interplay of various traditions and remains an avid student of Sanskrit. Richard teaches workshops and courses throughout the world and his video series, Yoga with Richard Freeman, set the gold standard for modern Ashtanga Yoga. He is the author of The Mirror of Yoga and co-author of The Art of Vinyasa. Richard's teaching and writing has served as an inspiration for people throughout the world to take up yoga.

MARY TAYLOR has studied and practiced yoga and other contemplative forms of practice since 1972. She travels and teaches yoga throughout the world, both independently and in collaboration with Richard. Mary also teaches and lectures in programs focused on bringing contemplative and yoga practices into the health care system for integrative therapies, end of life care, and for caregiver resilience. She co-founded the Yoga Workshop in Boulder, Colorado in 1988 with Richard and has co-authored What Are You Hungry For?: Women, Food, and Spirituality and The Art of Vinyasa.
Praise For…
---
"This new take on the Bhagavad Gita makes the heartfelt teaching accessible in a whole new way. By adding depth and dimension to this sacred text, Richard and Mary share a true gift with the world. I strongly recommend this new translation and commentary on the Gita to all students of yoga."—Kino MacGregor, author of Get Your Yoga On

"Freeman and Taylor have outdone themselves in this masterful new translation of the majestic Song of the Blessed God (Bhagavād Gītā), beautifully introduced by their down-to-earth yet revelatory study in the first half of this amazing work, When Love Comes to Light. With the creative and insightful translation of the central concept of bhakti as 'love' (instead of the usual 'devotion'), Freeman and Taylor do indeed cast a new and refreshing light on the peerless teaching the dear God Krishna bestows upon the powerful and thoughtful warrior Arjuna . . . This great book, fruit of the authors' lifelong teaching and skillful service to countless fortunate students, really does bring the true love of and by Krishna to light in all its glory. It will not fail to impart grace and joy to those lucky enough to read it."—Robert Thurman, Jey Tsong Khapa Professor Emeritus of Indo-Tibetan Buddhology

"This book casts the time worn but contemporary teachings of the Gita in a brilliant new light. On the battlefield of today's complex world, this is a timely guide to help all of us on the path of yoga embody discriminating wisdom, skillful action and compassionate presence. I love the textual references, embodied practices and insights into the ways in which we are undeniably interwoven."—Tias Little, author of Yoga of the Subtle Body