Rise of the Jumbies (Hardcover)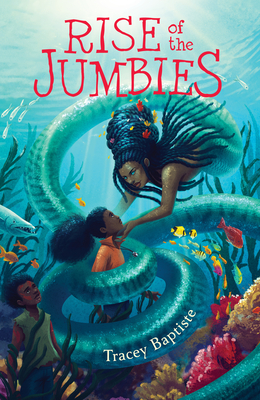 $16.95
Currently not in store. Available to order. Usually Ships in 1-5 Days
Staff Reviews
---
Tracey Baptiste delighted us with her chilling tale in The Jumbies – reminiscent of Neil Gaiman's Coraline. In Baptiste's first volume, Corinne faces sinister forces dressed up in familial clothing. We're excited to be back in Baptiste's world with this second installment, which includes a malevolent mermaid and weaves threads of fairy tales and mythology from West Africa and the Caribbean with vibrant characters and a palpable atmosphere. The Rise of the Jumbies has that same deliciously chilling edge as The Jumbies, and is perfect for winter nights.
~ Eight Cousins, Holiday Picks 2017
— From
Holiday Picks 2017
Description
---
Deep beneath the waves, a great enemy awakens . . .

Corinne LaMer defeated the wicked jumbie Severine months ago, but things haven't exactly gone back to normal in her Caribbean island home. Everyone knows Corinne is half-jumbie, and many of her neighbors treat her with mistrust. When local children begin to go missing, snatched from the beach and vanishing into wells, suspicious eyes turn to Corinne.
 
To rescue the missing children and clear her own name, Corinne goes deep into the ocean to find Mama D'Leau, the dangerous jumbie who rules the sea. But Mama D'Leau's help comes with a price. Corinne and her friends Dru, Bouki, and Malik must travel with mermaids across the ocean to fetch a powerful object for Mama D'Leau. The only thing more perilous than Corinne's adventures across the sea is the jumbie that waits for her back home.
 
With action-packed storytelling and inventive twists on Caribbean and West African mythology and fairy tales, Rise of the Jumbies is a breathlessly exciting tale of courage and friendship.

An NPR Best Book of 2017
A Kirkus Reviews Best Book of 2017
A School Library Journal Best Book of 2017
About the Author
---
Tracey Baptiste lived in Trinidad until she was fifteen; she grew up on jumbie stories and fairy tales. She is a New York Times bestselling author of Minecraft: The Crash, and a former teacher who works as a writer and editor. Visit her online at traceybaptiste.com and on Twitter: @TraceyBaptiste.
Praise For…
---
"The novelty of the fantasy elements, the complex characters, and the superb world-building combine in a tale well worth reading, both as a sequel and a stand-alone. A stellar recommendation for fans of edgy fantasy such as Aaron Starmer's The Riverman Trilogy or Adam Gidwitz's A Tale Dark and Grimm series, and, of course, fans of the first book."
—School Library Journal, starred review
 
"Baptiste's colorful, rich Caribbean characters return triumphantly in this sequel, and the mythos of the island continues to expand. Baptiste deepens what could be a light and charming undersea adventure with ties to African religions and the historical legacy of the trans-Atlantic slave trade. As other young children of the African diaspora sort out their feelings about and relationships with slavery, so do Corinne and her loyal friends. While other tales may address it with a casual aside or scrub out the grimiest bits, leaving history in a shiny, tidy package removed from reality, Baptiste allows her characters to find and create ways to grapple with uncomfortable truths. A stirring and mystical tale sure to keep readers thinking past the final page."
—Kirkus Reviews, starred review
 
"Rise of the Jumbies is a captivating tale that hooks readers from the onset and doesn't let go. The imagery is crisp and nuanced, the leading characters are gutsy yet kindhearted, and the villains are just the right amount of wicked for middle schoolers . . . If you're looking for a story that's original, action packed and inspiring, look no further than Rise of the Jumbies."
—BookPage
 
"Young readers are probably familiar with Greek myths, thanks to Rick Riordan, and other enduring European classics, so this series with twists on Caribbean (particularly Haitian and Trinidadian) and West African tales is a welcome change."
—Booklist
 
"This highly enjoyable story captures the culture and the atmosphere of the small island community with beautiful descriptions and natural, flowing dialogue . . . a welcome addition to the juvenile menagerie of mythological creatures."
—Foreword Reviews
 
"Thrilling."
—Bookish

"Kids who can't get enough of legends or fantastical stories will be wide eyed at both story and action, the latter of which is truly heart-pounding . . . Savvy readers ages 8-12 may be able to jump into Rise of The Jumbies feet first without reading its predecessor, The Jumbies, but I'd recommend starting there anyhow. Try that, and your child can wave 'hello' to her next favorite series."
—Guam Daily Post

"Read this book for the flavorful Caribbean setting. Read it for the fantastic mythology. Read it to meet one very brave girl. Read it if you like the thrill of a good scare. Read it to discover more about a shameful past hidden in the depths of the sea.  That's a tall order for one middle grade book, but Baptiste delivers on all counts."
—Reading Style Guide
 
"With an action-packed story, diverse characters, Rise of the Jumbies is an inventive twist on Caribbean and West African tales. This is a great book for summer reading that your middle schoolers will enjoy."
—Successful Black Parenting
 
"You can't go wrong with a fairy tale, and this Caribbean fairy tale is exciting. . . This story is well written, and the pace is just fast enough. I liked that it kept me guessing and that there were larger themes woven into the plot like slavery, chosen family vs. the family you are born with, and what happens when fear and hatred take root in people. "
—GeekReadsKids.com
 
 
Coverage from NPR