Unstrung: Rants and Stories of a Noise Guitarist (Hardcover)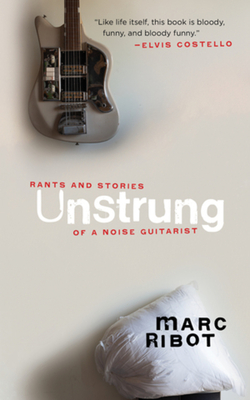 $24.95

Currently not in store. Available to order. Usually Ships in 3-7 Days
Description
---
Iconoclastic guitar player Marc Ribot offers up essays and stories in this darkly funny and subversive debut collection.
"A slim yet powerful book in which Marc Ribot blends bits of memoir with strange little fictions, many of which are based on his own life and career."
--Wall Street Journal
"Unstrung...delivers everything one could hope from a guitar hero/activist/cultural critic: that is, complex culture and musical theory broken down into tasteful riffs, absurdist tales of our times, and plenty of sparse, unpretentious prose as well-honed as any major American writer."
--BOMB Magazine
"In literature as in music, addressing topics directly isn't Ribot's way...As a sideman--with Tom Waits, Elvis Costello, Marianne Faithfull, Yoko Ono, Arto Lindsay, James Carter, Susana Baca, the Jazz Passengers, and his musical soulmate John Zorn, among countless others--he's always aimed to be direct and disruptive simultaneously, and the same goes for his writing."
--Robert Christgau, And It Don't Stop
"Ribot...produced a book that is much like his musical output: difficult to categorize but fascinating and engaging."
--Inside Hook
"In Ribot's fearless playing and equally acerbic prose, silence has a mighty fight on its hands."
--California Review of Books
"At its best, Ribot's writing resembles his music: It's challenging, unique, and very humane."
--Washington Examiner
" Ribot] continuously straddles the line between memoir and fiction as he travels an eclectic road of loss, justice, tribute, and blunt humor."
--Full Stop
Throughout his genre-defying career as one of the most innovative musicians of our time, iconoclastic guitar player Marc Ribot has consistently defied expectation at every turn. Here, in his first collection of writing, we see that same uncompromising sensibility at work as he playfully interrogates our assumptions about music, life, and death. Through essays, short stories, and the occasional unfilmable film "mistreatment" that showcase the sheer range of his voice, Unstrung captures an artist whose versatility on the page rivals his dexterity onstage.
In the first section of the book, "Lies and Distortion," Ribot turns his attention to his instrument--"my relation to the guitar is one of struggle; I'm constantly forcing it to be something else"--and reflects on his influences (and friends) like Robert Quine (the Voidoids) and producer Hal Willner (Saturday Night Live), while delivering an impassioned plea on behalf of artists' rights. Elsewhere, we glimpse fragments of Ribot's life as a traveling musician--he captures both the monotony of touring as well as small moments of beauty and despair on the road. In the heart of the collection, "Sorry, We're Experiencing Technical Difficulties," Ribot offers wickedly humorous short stories that synthesize the best elements of the Russian absurdist tradition with the imaginative heft of George Saunders. Taken together, these stories and essays cement Ribot's position as one of the most dynamic and creative voices of our time.