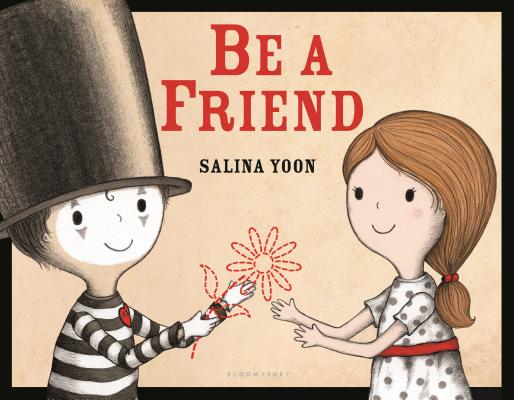 $17.99
Currently not in store. Available to order. Usually Ships in 1-5 Days
Description
---
From Geisel Honor-winning author/illustrator Salina Yoon comes a lush, heartwarming story of unbreakable friendship and celebrating what makes you unique.
Dennis is an ordinary boy who expresses himself in extraordinary ways. Some children do show-and-tell. Dennis mimes his. Some children climb trees. Dennis is happy to BE a tree . . . But being a mime can be lonely. It isn't until Dennis meets a girl named Joy that he discovers the power of friendship--and how special he truly is!
From the beloved author/illustrator of the Penguin and Bear series comes a heartwarming story of self-acceptance, courage, and unbreakable friendship for anyone who has ever felt "different."
Don't miss these other books from Salina Yoon!
The Penguin series
Penguin and Pinecone
Penguin on Vacation
Penguin in Love
Penguin and Pumpkin
Penguin's Big Adventure
Penguin's Christmas Wish
The Bear series
Found
Stormy Night
Bear's Big Day
The Duck, Duck, Porcupine series
Duck, Duck, Porcupine
My Kite is Stuck! And Other Stories
That's My Book! And Other Stories
Be a Friend
About the Author
---
Salina Yoon has written/illustrated more than 100 books for children. Her awards include the 2009 Oppenheim Toy Portfolio Gold Seal, Best Book Award, for both TOYS and ROCK & ROLL COLORS (Scholastic). OPPOSNAKES (S&S) was a 2009 finalist for the CBC's Children's Choice Book Awards for K-2nd Best Book of the Year.
Praise For…
---
"Gorgeous and profoundly moving, Be A Friend was an instant favorite with me and daughter. Salina Yoon has created a picture book that my family will keep going back to time and again." - Nicola Yoon, #1 NEW YORK TIMES bestselling author of EVERYTHING EVERYTHING
"Yoon, no stranger to odd-couple friendships . . . has changed tactics, creating a story about two people who just happen to see the world in a complementary way . . . Refreshingly, this story is not about overcoming shy or unusual behavior: no one ever makes Dennis speak, and no one teases him for the way he chooses to express himself. A sweet, visually striking story of friendship and acceptance." - starred review, Booklist
"This heartwarming book describes what it takes to be a friend . . . A wonderful book to use to encourage students to be themselves, to acknowledge that people are different, to introduce inferencing, to discuss disabilities, and to understand what it means to be a friend. Highly recommended." - School Library Connection
"It's the art and design that truly shine in this work--in fact, the story can easily be interpreted by pre-readers through the pictures alone . . . Warm and nostalgic . . . Delightful artwork buoys this quiet celebration of imagination, uniqueness, and friendship." - School Library Journal
"A launchpad for discussions of individuality. Yoon's lively illustrations will encourage young readers to mime along with Dennis. Her use of red dotted lines to depict each pantomime will allow children to fill in the blanks using their imaginations. Adults will enjoy her eye for details, including a poster of Marcel Marceau in Dennis' wardrobe. A delightful story about the celebration of individuality and friendship." - Kirkus Reviews
"This comforting story successfully addresses the common fear of storms for a young audience . . . The storm's impact has no lasting power against a family's love." - School Library Journal on STORMY NIGHT
"A thoughtful, flawlessly executed exploration of theory of mind and emotional intelligence." - starred review, Publishers Weekly on FOUND