Gennaro's Limoni: Vibrant Italian Recipes Celebrating the Lemon (Gennaro's Italian Cooking) (Hardcover)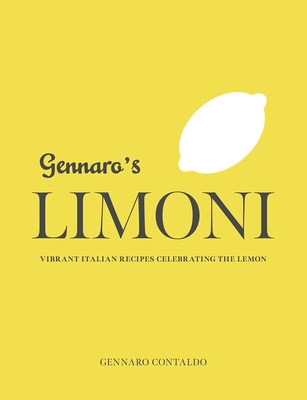 $35.00

Backordered. Please call 508.548.5548 for more information.
Description
---
Gennaro Contaldo's love letter to his Amalfi Coast home

Ask a foodie about the Amalfi Coast and lemons immediately spring to mind. The sweet, aromatic, large and thick-skinned sfusato Amalfitano is the extraordinary and delectable citrus fruit that Gennaro Contaldo grew up with.

Lemons were and still are a part of daily life for locals of the Amalfi Coast, and Gennaro continues this tradition in his everyday cooking. From a sliver of zest in his morning espresso to helping with minor ailments and even household chores, lemons have a wealth of uses. No part of the lemon is wasted—flesh, pith, and skin are chopped into salads, juice is drizzled over meat, fish, and veggies, while the aromatic zest adds a complexity to a dish's flavor. Even the leaves are used to wrap meat, fish and cheese for extra flavor, or finely chopped and made into a tea infusion.

Lemons can cleanse, refresh, preserve, "cook," and add a vibrant flavor to dishes, giving color and an uplifting aroma. Through vibrant recipes like Ravioli with Ricotta, Lemon, and Mint; Sicilian Chicken Involtini; Lemon Cookies; and Coffee and Lemon Semi-Freddo, this is a beautiful and inspiring homage to the most revered of fruit.

Chapters include: The Amalfi—a little history including stories of Gennaro's childhood; Lemons in the kitchen; Salads & Appetizers; Pasta & Risotto; Meat & Fish; Veggie & Vegan; Dressings & Sauces; Desserts; and Drinks.

• Gennaro Contaldo is one of the world's most-loved chefs regularly appearing in Jamie Oliver's TV show "Jamie Cooks Italy."
• Beautiful food and location photography on the Amalfi coast by celebrated photographer David Loftus.
• "Gennaro's Pasta Perfecto deserves to become a well-thumbed kitchen classic." (The Daily Mail, "Best Cookbooks of 2019")
About the Author
---
Gennaro Contaldo is widely known as the Italian legend who taught Jamie Oliver all he knows about Italian cooking, as well as a renowned personality in his own right. Born in Minori on the Amalfi Coast, Gennaro's quintessentially Italian spirit and positive nature has made him a TV favorite. He regularly appears on Saturday Kitchen and more recently his own TV series, "Two Greedy Italians" on PBS. Gennaro is currently involved in the Jamie Oliver restaurant chain, Jamie's Italian, where he creates dishes and trains chefs nationwide and abroad. He is the author of many cookbooks, including the highly-acclaimed Panetteria: Genarro's Italian Bakery, and Passion: Simple, Seductive Recipes for Lovers of Italian Food. He has his own YouTube food channel and is an ambassador for Citalia and Bertolli. He lives in London with his wife and two daughters.
Praise For…
---
"With each recipe, Contaldo brings joy and dazzlement."
— Publishers Weekly

"What a fantastic book – delicious Italian food, fast."
— Jamie Oliver

"'[An] excellent cookbook … fun to read …This delightful cookbook will educate and inspire."
— Publishers Weekly

"Italian master-chef Contaldo, who famously taught Jamie Oliver to cook Italian, recounts his childhood in exquisite detail, matching his recollections to the subject on point … Artfully arranged photographs and some well-worn and much-needed tips round out what will soon be an oft-referred-to classic."
— Booklist, Starred Review

"The Amalfi Coast is known for extra-sweet, thick-skinned lemons, and native Contaldo digs into the area's flavor in a collection as bright and cheerful as its subject … Whether codifying the 17-day process for crafting limoncello or explaining how friends at a hometown pastry shop candy citrus peel, Contaldo evokes joy."
— Publishers Weekly

"Prolific cookbook author Gennaro … gathers 70-plus dishes from friends, family, and his own creations that feature lemon in a variety of ways, from sauces to main ingredients … All feature great color photographs, personal introductions, and, when needed, step-by-step, illustrated directions. A bonus is Contaldo's outline of the three uses of lemons: for cleaning, as medicine, and in recipes."
— Booklist