The Golden Thread: How Fabric Changed History (Hardcover)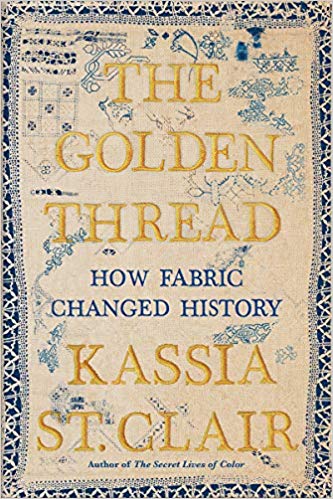 $23.95
Email or call for price.
Description
---
A Sunday Times (UK) Book of the Year

Shortlisted • Society of Authors' Somerset Maugham Award

A BBC Radio 4 Book of the Week
The best-selling author of The Secret Lives of Color returns with this rollicking narrative of the 30,000-year history of fabric, briskly told through thirteen charismatic episodes.
From colorful 30,000-year-old threads found on the floor of a Georgian cave to the Indian calicoes that sparked the Industrial Revolution, The Golden Thread weaves an illuminating story of human ingenuity. Design journalist Kassia St. Clair guides us through the technological advancements and cultural customs that would redefi ne human civilization—from the fabric that allowed mankind to achieve extraordinary things (traverse the oceans and shatter athletic records) and survive in unlikely places (outer space and the South Pole). She peoples her story with a motley cast of characters, including Xiling, the ancient Chinese empress credited with inventing silk, to Richard the Lionhearted and Bing Crosby. Offering insights into the economic and social dimensions of clothmaking—and countering the enduring, often demeaning, association of textiles as "merely women's work"—The Golden Thread offers an alternative guide to our past, present, and future.
About the Author
---
Kassia St. Clair is a journalist and author who has written about design and culture for publications including the Economist, Elle, and the Times Literary Supplement. The author of The Secret Lives of Color, St. Clair lives in London.
Praise For…
---
An eclectic take on how humans have developed fabric…Each subject offers a fascinating look at the challenges that fabrics aim to overcome, as well as the often-devastating environmental and human effects involved in their production… The Golden Thread spins a rich social history of textiles that also reflects the darker side of technology and the development of capitalism.

— Rachel Newcomb, Washington Post

As Kassia St. Clair underscores in The Golden Thread: How Fabric Changed History, fabric is an essential element in our lives… A pleasant and enjoyable survey of moments in textile history.

— Judith Flanders - Wall Street Journal

Fascinating.... Written in elegant prose, this tour of textile history will draw in readers interested in human evolution and culture.
— Publishers Weekly [starred review]

A fascinating look at one of those everyday things many of us take for granted: fabric. Instead of tackling fabric's entire history, St. Clair.... skips across centuries and around the world, sharing accessible and telling stories.... Whether sharing the silk-making secrets of Chinese empresses or exposing the benefits of performance-enhancing swimsuits, this extensively documented and always entertaining overview works equally well for reading cover to cover or dipping into for snippets.
— Kathleen McBroom, Booklist

[A] spirited, illuminating cultural history on essential fibers that have been spun, knitted, and woven throughout time, from traces of thread discovered in Neolithic caves to the multilayered "one-person spaceships" worn by American astronauts.... Vibrant, entertaining, and brightly informative.
— Kirkus Reviews

Hugely ambitious, sparklingly erudite, and wonderfully engaging.
— Peter Frankopan - History Today

Joyful and beautiful.
— Nature

Will make you rethink your relationship with fabric.
— Elle Decoration

The history of the world through the eye of a needle.... [F]ascinating.... I recommend this book to anyone.
— Katrina Gulliver - Spectator

A charming, absorbing history that takes us on a journey from the silk roads to sportswear, from ruffs to spacesuits.... I devoured this quietly feminist book.
— Sunday Times