Penguin on a Scooter (Board book)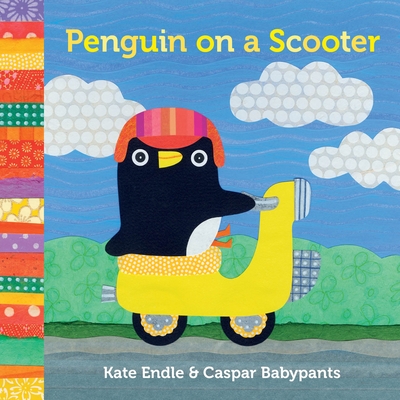 Call for price: 508-548-5548
It is unlikely that we will be able to order this item. Please call 508.548.5548.
Description
---
Meet a roller-skating bunny, a disco-dancing philly, a penguin on a scooter, and other playful animals in this silly and adorable board book from indie collage artist Kate Endle and children's music star Caspar Babypants. Toddlers will love this fun board book, featuring beautiful and playful collage art by indie artist Kate Endle and the clever word play of Seattle songwriter Caspar Babypants.

Nothing is as funny as a roller skating bunny.

Nothing is as crazy as a zebra wearing daisies.

After meeting a variety of silly and colorful creatures, toddlers learn:

Nothing is as true as the love I have for you.
About the Author
---
CASPAR BABYPANTS is also known as Chris Ballew, twice Grammy-nominated lead singer and songwriter for the rock-and-roll band The Presidents of the United States of America. After years of tinkering with simple tunes, Chris rediscovered folk and traditional music and focused his songwriting for kids, giving birth to Caspar Babypants. His wife, Kate Endle, has influenced his transformation and writing style for kids. Chris also composes music for commercials and television. For music, info, and more on Caspar Babypants, go to BabypantsMusic.com.

KATE ENDLE grew up in Northeast Ohio and attended the Columbus College of Art and Design. Her illustrations can be found in magazines, greeting cards, children's books, and home decor products. After years of collecting unique paper, she realized it was time to put her supplies to use. With scissors, acrylic medium, and a wide selection of hand-painted and decorative papers, she created another avenue for her love of design and color. Original art and Kate Endle collage prints can be found at her online shop at KateEndle.com.
Praise For…
---
"This funny, lovely board book should become a favorite of kids and caregivers alike; it strikes just the right note of charm and absurdity and never talks down to its audience." --Kirkus Reviews, starred

"Kids will find a colorful cast of characters in this book that capitaiizes on repetitive phrasing that bolsters early literacy skills. From a "disco dancing filly" to "elegant chimpanzees"  who are as silly as they are dapper, the comparisons made in this book are as creative as ever." --Red Tricycle

"Kate Endle's tactile, bright and engaging collage elevate the repeated refrain with a parade of animals caught in incongrous moments." --ParentMap