Better with Books: 500 Diverse Books to Ignite Empathy and Encourage Self-Acceptance in Tweens and Teens (Paperback)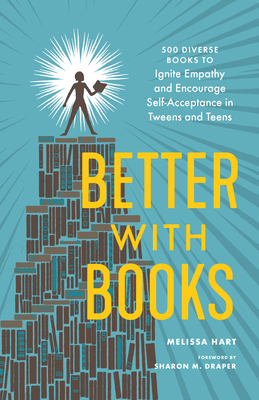 $19.95
On Our Shelves.
Online inventory updates every 24 hours. Call 508.548.5548 to verify.
Description
---
"This collection of themed book lists is a valuable resource for educators, librarians, parents, and other adults who recognize the power of literature in the lives of young people."
—Publishers Weekly

Needed now more than ever: a guide that includes 500 reading recommendations for preteens and teens with the goal of inspiring greater empathy for themselves, their peers, and the world around them.
 
As young people are diagnosed with anxiety and depression in increasing numbers, or dealing with other issues that can isolate them from family and friends–such as bullying, learning disabilities, racism, or homophobia–characters in books can help them feel less alone. And just as important, reading books that feature a diverse range of real-life topics helps generate openness, empathy, and compassion in all kids.
 
Reading lists are organized around topics, including:
• Adoption and foster care
• Body image
• Immigration
• Learning challenges
• LGBTQIA+ youth
• Mental health
• Nature and environmentalism
• Physical disability
• Poverty and homelessness
• Race and ethnicity
• Religion and spirituality

Each chapter explores a particular issue affecting preteens and teens today and includes a list of recommended related books–all published within the last decade. Recommendations are grouped by age: those appropriate for middle-grade readers and those for teens. Better with Books is a valuable resource for parents, teachers, librarians, therapists, and all caregivers who recognize the power of literature to improve young readers' lives.
About the Author
---
Melissa Hart is contributing editor for The Writer Magazine and creative writing teacher for Southern New Hampshire University's MFA program. She holds a BA in literature from U.C. Santa Barbara's College of Creative Studies and an MFA in creative writing from Goddard College in Vermont. She's the author of the award-winning middle-grade novel Avenging the Owl and two memoirs--Wild Within: How Rescuing Owls Inspired a Family and Gringa: A Contradictory Girlhood. She's based in Eugene, Oregon, and travels frequently around the U.S. with her husband and 12-year-old daughter. www.melissahart.com.
Praise For…
---
"An essential resource for parents, librarians, teachers, and all who help guide our teens and preteens: the reading list topics speak precisely to the kinds of issues they face every day."
—Nancy Pearl, bestselling author of Book Lust, librarian, and literary critic

"This collection of themed book lists is a valuable resource for educators, librarians, parents, and other adults who recognize the power of literature in the lives of young people."
—Publishers Weekly

"This exceptionally useful text offers well-curated annotated bibliographies on subjects such as immigration, race and ethnicity, LGBTQIA+ identities,  adoption, religion, and poverty, framed by brief and engaging essays on why each topic matters to readers today...this beautifully organized work should become a go-to resource for parents, students of young adult literature, teachers, and librarians."
—School Library Journal

"When you're a teenager or preteen, knowing that you're not the only one going through something makes you feel considerably less alone. Better with Books includes corresponding fiction and memoir recommendations to deal with all of the issues and insecurities that young people face. It's super thorough and helpful and I will definitely be referencing it as my daughter grows up." 
—Padma Lakshmi, actress, television host, and author of Love, Loss and What We Ate

"The right book read at the right time can change a life, and that's why Better with Books belongs in every library. Timely, compassionate, and wise, this is a remarkable reference guide."
—Katherine Applegate, Newberry Medal award-winning author of The One and Only Ivan

"If you're a parent of tweens or teens, or you work with them, Better with Books is an absolute must-have reference book. . . . This gem needs to be on your bookshelf!" 
—Donna Gephart, uthor of Lily and Dunkin and In Your Shoes

"Stories heal, bind, illuminate, and guide us. As an educator always searching for stories to help support and aid my students, I need a guide as thorough and essential as Better with Books. This will definitely sit on my shelf adorned with many Post-it notes!"
—An Na, author of A Step from Heaven and The Place Between Breaths

"This book is incredibly insightful, organized, and detailed. Hart delivers a wonderful, diverse series of lists and summaries that would be an excellent addition to any home, library, or classroom."
—Peter Brown Hoffmeister, author of Too Shattered for Mending

"Better with Books is a comprehensive guide for educators, parents, and anyone looking to find just the right book for a preteen or teen."
—Chris Crutcher, award-winning author of Staying Fat for Sarah Byrnes and Whale Talk