The Woman Who Lives Without Money (Paperback)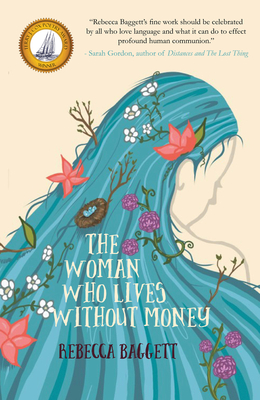 $15.95

On Our Shelves.
Online inventory updates every 24 hours. Call 508.548.5548 to verify.
Description
---
The poems in this first collection move through the arc of a life, with a tender focus on the landscape of childhood and the natural world. A young child's delight in language—'derelict and delectation...onyx and obsidian'— matures to contemplate what language, myth, and art can teach us about inevitable loss: of a home the child, her mother, and sisters were forced by a troubled father to flee; of aunts, uncles, and that mother who had once seemed eternal. Woven into this narrative, the title character—a nomadic woman who lives without money—appears with her porcelain begging bowl, a figure from myth, a touchstone for what is everlasting, a moment of transcendence into a more benevolent world, the one glimpsed again and again in these poems.
About the Author
---
Rebecca Baggett is the author of four chapbooks, including God Puts on the Body of a Deer and Thalassa. Her first chapbook, Still Life with Children, won Pudding House Publication's first chapbook competition, and God Puts on the Body of a Deer was the winner of Main Street Rag's chapbook contest. Her work appears in numerous journals and anthologies. A native of North Carolina, she has lived most of her adult life in Athens, GA.
Praise For…
---
"This collection is so sensory and so full of lively detail that it's easy to miss how elegiac it is. There's great loss here—of childhood innocence and security, of home and family. In the haunting sequence of prose poems that give the book its title, the homeless 'woman who lives without money' literally loses (or gives up) everything. But loss is less a subject for grief than a path toward greater understanding. In 'Indistinct,' the speaker who 'longed for perfect sight' comes at last to embrace the "soft, mysterious,/and imperfectible world.' And although loss and tragedy confront us every day, 'Testimony' concludes that 'anyone who notices the world/ must want to save it.' Throughout this collection, Rebecca Baggett saves the world over and over again." —Eric Nelson, author of Some Wonder and Terrestrials

 

"In Rebecca Baggett's latest collection, we meet not only the woman who lived without money, but a host of other strong women. From Georgia O'Keefe, whom the poet imagines 'seeing the music, elegant hands translating / it to color, swirl, line' to teachers who opened new worlds as they read after-lunch stories; from her reliable, mothering aunts to her grandmother, who 'knew too well / what happens to those who look back,' and to the poet herself, who tells her daughters 'that anyone who notices the world / must want to save it,' Baggett shows us how to survive 'unnatural disasters,' yet remain open to beauty. She assures us in language accessible but fresh, evocative yet comforting that 'no one / makes it through this world intact, / and that's okay.'" —Clela Reed, author of Or Current Resident and Word Bully
 

"Rebecca Baggett's The Woman Who Lived Without Money, in its precision of image and sensitive insight, illuminates the joys and sorrows of the quotidian: the grandmother who marvels that the poet writes about 'people before they died'; the frighteningly abusive father; the honeymooners shivering in their 'layered long johns'; the dangerously cavalier teens, 'fools cupped in God's hands,' out late in a fast car; and, of course, the vicissitudes of the title character who finally leaves everything, even 'her name, the syllables of which dragged at her heels for miles.' Rebecca Baggett's fine work should be celebrated by all who love language and what it can do to effect profound human communion." —Sarah Gordon, author of Distances and The Lost Thing (poetry) and Flannery O'Connor: The Obedient Imagination and A Literary Guide to Flannery O'Connor's Georgia

 

"'I, too, write of loss and grief,' Rebecca Baggett confesses in a line from her new collection [or alternate wording mentioning the prize or numbering in publications] The Woman Who Lives Without Money. She chose an epigraph by Neruda claiming that, despite everything, 'we are approaching a great and common tenderness.' This isn't pie-eyed optimism, but acknowledgement that 'no one makes it through this world intact, and that's okay.' Readers enter through a paean to girlhood, recognizable to those who've endured scratchy crinolines in church or loved certain trees as friends. It is also a particular girlhood of one 'small…intense and very plain.' Her love of words made dictionaries feel like contraband. She was a girl who would lift from her body to survive a family's 'unnatural disaster.' From girl to newlywed to mother to the fabled woman of the book's title, we are learning all the ways one can be a woman. What to choose? The laundry or the next line of a poem? The books or the work of hands? The Woman Who Lives Without Money abandons it all and dares us to revile her or feed her. Tenderness, then, is the greatest dare, and exists within its own peril. To love a tree, a person, or even a younger self, is to practice loss. Baggett's heartbreaking book is a tutelage in that practice, along with its gifts." —Michelle Castleberry, author of Dissecting the Angel